COMMENCEMENT 2016: FHSU to graduate 3,794 this year in ceremonies Friday night, Saturday morning, May 13, 14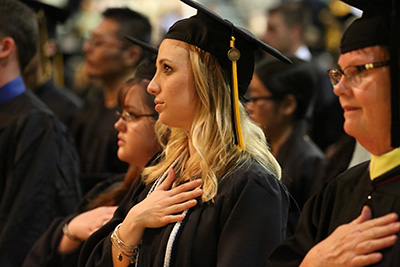 05/06/16 kb
HAYS, Kan. -- Commencement ceremonies at Fort Hays State University this year will mark the graduation of 3,794 graduates from the summer and fall of 2015 and spring 2016, which is 224 more than last year's spring Commencement total of 3,570.

A new tradition of two ceremonies, begun last year to accommodate increasing numbers of graduates and their families, continues this year. Both Commencement ceremonies will take place in Gross Memorial Coliseum, immediately adjacent to the U.S. 183 Bypass on the south side of the FHSU campus.

Bob Dole, war hero, former U.S. congressman and senator and the Republican Party nominee for the presidency in 1996, will be the keynote speaker at both ceremonies and will be awarded the first-ever honorary doctorate presented by Fort Hays State.

Graduates from the College of Business and Entrepreneurship, the College of Education, and the College of Science, Technology and Mathematics will gather for Commencement at 6 p.m. on Friday, May 13. Coliseum doors open at 4 p.m.

Graduates from the College of Arts, Humanities and Social Sciences and the College of Health and Behavioral Sciences will gather for Commencement at 9 a.m. on Saturday, May 14. Doors open at 7 a.m.

The 9 a.m. starting time for the Saturday ceremony is a change from years past.

Both Commencement ceremonies are free and open to families of graduates and to all friends of the university. No tickets are required.

They will also be streamed live in two places on the FHSU website. One will be accessed through a Watch Live link on the home page banner. FHSU's student-run news operation, Tiger Media Network, will also stream a live feed of Commencement through the TMN+ link on its homepage at tmn.fhsu.edu.

"This is a big day for each and every one of our graduates, and we want it to be special for them, their family and friends," said Craig Karlin, registrar.

The projected numbers of degrees -- associate, bachelor's and graduate - from the Office of the Registrar are 402 from the summer 2015 term, 807 from the fall 2015 semester and 2,585 from this spring. The overall numbers, which will change slightly when the degree checking process concludes, are 93 total associate degrees, 2,961 bachelor degrees and 740 graduate degrees (Ed.S., MFA and master's) across the five academic colleges at FHSU.

Graduates should park on the main campus and gather in the hallways of adjacent Cunningham Hall by 5:15 p.m. on Friday and by 8:15 a.m. on Saturday; all others are asked to enter Gross Coliseum through Gates 1, 2, 3 or 4. Traffic in the Gross Coliseum area is extremely heavy for Commencement. Parking lots adjacent to Gross Coliseum typically fill up quickly, but ample parking is available on the main campus. In the event of rain, unpaved lots near Gross Coliseum will be closed, making it necessary to park on the main campus.

Shuttle bus service will be provided both Friday and Saturday between the campus and Gross Coliseum. The shuttle buses will stop in parking lots and wherever drivers see people walking to or from Gross Coliseum.

Graduates and faculty will be seated on the main floor of Gross Coliseum. Relatives and friends of the graduates will be seated in the bleachers and the balcony. Seating for the disabled will be available in the bleacher areas on either side in front of the stage. One person may accompany an individual requiring seating in these areas.

Drivers will find Gates 2 and 3, at the northwest and southwest corners, most convenient for dropping off passengers with disabilities. Rebecca Luedders will interpret for the hearing-impaired in Gross Coliseum.

FHSU officials ask those who attend to show decorum appropriate to the occasion. Air horns and other noisemakers are not allowed in Gross Coliseum. Please do not applaud individual graduates because loud demonstrations are discourteous, drowning out the names of the graduates who follow. An appropriate time for applause will be announced. The audience is also asked to refrain from moving around, and graduates should remain for the entire ceremony.

Another change in Commencement this year is that a video feed in the Beach/Schmidt Performing Arts Center in Sheridan Hall will not be offered. Attendance in Beach/Schmidt had declined to less than a dozen.

Up-to-date information about Commencement 2016 is available on the FHSU website at www.fhsu.edu/commencement. This page also will have a link to the live feed.