FHSU athletes throw records out the window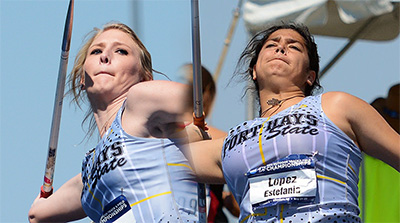 05/06/16
By Randy Gonzales
University Relations and Marketing
HAYS, Kan. - If your record is going to be broken, it might as well be by a teammate.

Fort Hays State University is the home for two of the top javelin throwers in the nation in NCAA Division II who also rank in the top 20 among all female throwers, no matter what division.

Estefania Lopez and Madison Wolf have taken turns breaking the school record in the event. Lopez first broke the record at the 2015 NCAA Division II Outdoor Track and Field Championships with a throw of 170 feet, 8 inches. On April 15, at the KT Woodman Classic in Wichita, Wolf broke Lopez's mark, uncorking a winning throw of 170-10. That mark lasted all of one week. On April 21, Lopez regained her school record with a throw of 173-8, finishing second at the KU Relays in Lawrence.

"She broke the school record a few weeks ago, then I do the same," said Lopez, a junior sports management major from Valencia, Spain. "It's kind of fun."

Wolf, a junior from Bennington majoring in business-marketing, likes the fact the two throwers make each other better.

"We've got a good, competitive spirit going," Wolf said. "We're always light-hearted about it, but we always like to be competitive with each other. That's always good, to have a teammate push you to be the best you can be."

Going into this weekend's Mid-America Intercollegiate Athletics Association conference meet in Maryville, Mo., Lopez and Wolf rank second and third, respectively, among NCAA II javelin throwers. They trail only Allison Updike of California's Azusa Pacific University on the national charts. Updike has a throw of 175-11 this year.

The women's javelin is scheduled for Sunday at the MIAA meet. Is it possible the school record could fall again?

"I think we can throw farther than we have thrown," Lopez said.

While Lopez threw the javelin for a year at the University of Valencia before coming to Fort Hays State, Wolf had no thoughts of trying the event until she contracted pneumonia during basketball season her senior year in high school, then opted not to participate in her normal running events during track season.

Instead, she decided to give javelin a try and ended up winning the Class 2A state championship in the event. She was planning on attending FHSU anyway, but now it would be on a track scholarship.

"A lot of schools called me wanting to do javelin," Wolf said. "My heart was still set on Fort Hays State."

What Wolf thought was a bad break turned into a positive end result.

"At the time it was the worst thing that could happen to me," Wolf said. "If it hadn't happened, I would not be where I am. I would never have thought to pick up a javelin, and I wouldn't have all this success. Just good things from me being sick."

Part of the reason Wolf likes FHSU is her coach in her specialty, Andreas Maheras, who has developed both throwers into elite talents.

"I wanted to go to Fort Hays State because Coach Maheras is the best," Wolf said. "He has helped immensely. He has his stuff down pat."

Lopez also sang Maheras' praises. He was the one who worked through a Spanish agency to bring Lopez to Fort Hays State. Once she was here, he worked on Lopez's form.

"We tried a new technique," Lopez said. "My technique was so bad."

Maheras said he applied simple "bread and butter" techniques to get the best out of talented throwers.

"Based on the limited time available for practice, I employ methods that have direct and transferable results on their performance," Maheras said.

The NCAA Division II national meet starts May 26 in Bradenton, Fla., and both Tiger javelin throwers already have qualified for the season finale. The top eight finishers in each event earn All-American status. Wolf placed sixth as a freshman and fourth last year, when Lopez was national runner-up at the season finale.

"At nationals, we just want to go out there with a competitive edge," Wolf said. "We know we're going to have to perform well if we want to be on the All-American list."

But nationals will have to wait. There's an MIAA championship - and meet record - to chase.

Wolf thinks the conference record could fall this weekend to one of the two Tigers. The record is 161 feet, 4.25 inches, and Lopez came close last year with her winning throw of 161-1.

"For the MIAA conference (meet), Estefania and I want to push each other to break the meet record," Wolf said. "Both of us post marks consistently better than that. That's our goal for conference."

Note: The MIAA women's javelin record did indeed fall to a Fort Hays State athlete at the MIAA meet last weekend. Lopez won the conference title for a second consecutive year with a meet record-breaking throw of 166 feet. Wolf placed second. For a full story on FHSU's performances at the MIAA meet, visit fhsuathletics.com.

Cutline: Wolf and Lopez. Photo by Kyle Terwillegar.