FHSU graduates take the next step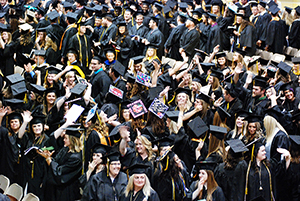 05/16/16
By Randy Gonzales
University Relations and Marketing
HAYS, Kan. - Jeina Stoumbaugh was one of 3,794 Fort Hays State University graduates in 2016. She couldn't have done it without the support she received the last four years from the FHSU community.

"They helped me out tremendously," said Stoumbaugh, who received a degree in organizational leadership. "First person I met on campus was Joey Linn. He's been one of my biggest supporters all four years."

Dr. Linn was associate vice president for student affairs and registrar at the time and has since been promoted to vice president of the Division of Student Affairs.

There were 224 more graduates than in 2015 for this year's commencement. The keynote speaker at commencement ceremonies Friday and Saturday in Gross Memorial Coliseum was political icon and Russell native Robert J. "Bob" Dole, who received the university's first-ever honorary doctorate.

"In these very contentious times, the life's work of Sen. Bob Dole reminds us we must find ways to come together, to move forward, to accomplish together what no one of us can do alone," FHSU President Mirta M. Martin said. "He shares the same western Kansas values that sustain our exploration on the Great American frontier. His life is a life lived large, and his influence is even larger. His life's journey is distinguished by courage, by sacrifice, by compassion and by public service. He remains one of the nation's greatest and most visible leaders."

Michael Beach and his wife, Pat, traveled from South Carolina to attend Friday's graduation of their nephew, Austin Linden-Lowell. About a dozen family members gathered for the big occasion, and a family picnic was planned afterward. Beach, who is retired from the telecommunications industry, has his own consulting business. Linden-Lowell, from Deer Trail, Colo., graduated with a degree in technology studies.

"I was an engineer," Beach said. "I'm interested to see what he's planning to do."

Linden-Lowell and Stoumbaugh, like the 3,792 other graduates, will take that next step Dole alluded to in his speech, a step Martin emphasized in her remarks.

"Today, we are on the cusp of one of the greatest generational shifts of all time. You, the millennial generation, 81 million strong, are the largest generation in American history. You will not have the luxury of a long apprenticeship. In just four short years, you will comprise 46 percent of the workforce," Martin said. "Don't live a life that's too small for you. Live large, be courageous, be compassionate, be a leader.

"To be a leader, you must be visible," Martin added. "To make a difference, you must be seen. To be seen; to have the world find you - you must give of yourself."

Stoumbaugh, who is from Westminster, Colo., gave of herself in her four years at Fort Hays State. She worked with student orientation in the student affairs office and was active in Delta Zeta sorority. She also worked nights as a certified nursing assistant at Cedar View Assisted Living. Now it's on to the University of Central Missouri to be a graduate assistant while pursuing a master's degree in college student personnel administration.

"It's a little scary, but I know I still have those people who supported me all these four years," said Stoumbaugh, who moves to Warrensburg, Mo., in July. "They're again going to be my biggest cheerleaders when I make the move."