FHSU races toward record campus growth with track and field complex groundbreaking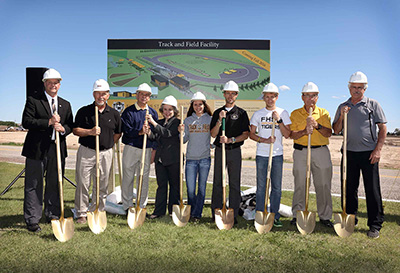 05/11/16
By Diane Gasper-O'Brien
University Relations and Marketing
HAYS, Kan. -- John Mason put in a lot of miles on the oval track inside the limestone walls of historic Lewis Field Stadium during his college days at Fort Hays State University. And he loved running for legendary coach Alex Francis.

But that was nearly 50 years ago, Mason noted, and it's time for a change.

Mason, one of the Tigers' all-time greats who earned All-American status 14 times in long distance races during his college career, was back home Wednesday afternoon to help celebrate new beginnings for the track and field teams at his beloved university.

The 70-year-old Mason, who might be best remembered for beating eventual 1968 Olympic champion Kip Keino from Kenya in the 1,500 meters in the World Games, drove from his home in Phillipsburg to take part in a record-breaking activity of a different kind.

Mason was one of nine to turn over some dirt at a groundbreaking ceremony for a new $3 million track and field complex just south of the FHSU soccer complex on the far west side of campus.

"This is a big day for our department and for our track and field program," FHSU Athletic Director Curtis Hammeke said on a pleasant -- but of course windy -- spring afternoon at the site of FHSU's newest construction adjacent to the Bickle/Schmidt Sports Complex.

"There will never be any wind problems out here," Hammeke quipped as a backdrop for photo opportunities blew over.

"Any time you building something new on open land, of course wind will be a challenge," he added. "But we'll plant some trees; futuristically, it will be a fantastic sight."

The need for a new place to run and jump and throw for FHSU athletes spawns from more construction surrounding land-locked Lewis Field Stadium, a Works Progress Administration project from the late 1930s.

Construction of a 31,000 square-foot, three-story Themed Housing residential building, along with additional parking, is underway in the area directly north of the Lewis Field Stadium, the former site of most of the field events for track meets.

Rather than being nostalgic about leaving the site of so many good memories, Mason said he is excited for current and future Tiger athletes.

"Back then, our facilities were very primitive; we ran on a cinder track," Mason said.

"We had to scoop snow out of the first two lanes to practice in the winter. No indoor facility," he added, reminiscing. "No weight room. We had one barbell with two sets of weights on it. We changed clothes in the training room. They have some great facilities here now at Fort Hays State."

FHSU's track and field facilities are going to get even greater for the 2016-17 school year.
The new 500-seat grandstand will feature a nine-lane rubber track with space for all field events inside the stadium, with the exception of throwing events.

However, Hammeke stressed, even the throwing events will be visible from within the stands. Completion for the facility is slated for fall 2016.

The area also includes locker rooms, restrooms, concession stands, as well as enough expansion space for tennis courts and softball and baseball fields if the need arises for those fields in the future.

"What you're experiencing here is a historical occasion," said Dr. Mirta M. Martin, FHSU president. "This marks the beginning of a new era. We're creating a place where our athletes can showcase their talents. It's time to give the track and field athletes a home."

The Tigers will take a piece of their old home with them. Hammeke said that Francis, the long-time coach for whom the track at Lewis Field Stadium was named several years ago, will be honored in some fashion at the complex, as will other former Tiger greats.

Fundraising is ongoing for extra amenities for the facility, and various naming options are available, either on a donor wall or for field events areas. More information about donations can be found by contacting the FHSU Foundation by email at foundation@fhsu.edu or by phone at 785-628-5620.

"It's a sign of growth," Hammeke said. "It's a sign of vision, moving into the future.

"That's what we're here to do, to keep a futuristic vision at the forefront of all that we do," he added. "When you get idle, you're going backwards."

There's no going backwards with Hammeke and Martin in charge.

"This is our commitment to the economic engine of Hays, America," Martin said. "This will provide tremendous opportunities for our community and for us. It's an opportunity to continue to create the 21st century destination of choice for the 21st century student-athlete."