Groundbreaking ceremony set for new Fort Hays State track and field facility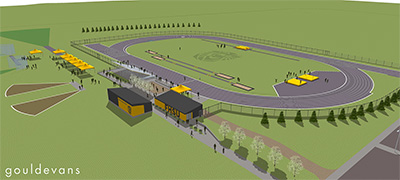 05/06/16 dgo
HAYS, Kan. -- There aren't any home meets for track and field enthusiasts to attend at Fort Hays State University this spring.

But fans will get a chance next week to view the location of a new facility being built on a different site than historic Lewis Field Stadium.

A groundbreaking ceremony for the $3 million complex is set for 4 p.m. Wednesday, May 11. Construction began in early April on the new facility, located just south of the FHSU soccer complex adjacent to Bickle/Schmidt Sports Complex.

Those wishing to attend the groundbreaking ceremony can access 230th Ave. just south of the intersection of Eighth Street and U.S. Highway 183 Alternate that runs by the west end of the university.

In the past, numerous field events were held just outside the limestone walls of Lewis Field Stadium, with running events and high jump held inside the stadium.

Because of construction of a new residence hall and parking area north of the stadium, all track and field meets normally scheduled at the FHSU facility had to be relocated this spring.

However, by this fall, Tiger track and field athletes will have a new place to call home.