Opportunity Through Education LLC gets hands-on experience in New Orleans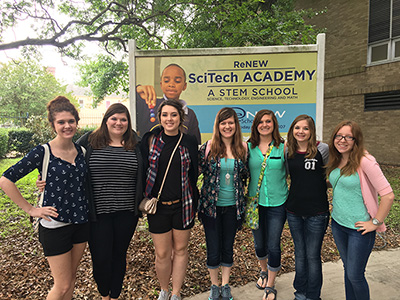 05/24/16 cu
The Opportunity Through Education Living Learning Community at Fort Hays State University drove to New Orleans to spend time at SciTech Academy and had the opportunity to work with pre-kindergarten through eighth-grade students. The school is one of seven ReNew Charter Schools in New Orleans.

Students from FHSU participated in their areas of interest for two days, in which they shadowed and helped with small-group instruction, learned about classroom management, the history of education before and after Hurricane Katrina, and charter schools in New Orleans.

The SciTech Academy has a traditional curriculum, like most public schools, with a primary focus on science, technology, engineering and mathematics (STEM).

Examples of this are a dedicated robotics program and a one-to-one Google Chrome initiative for fifth- to eighth-grade students.

Besides the two days the group spent at SciTech Academy, students also navigated the city using streetcars to visit the French Quarter and the Garden District.

Within the French Quarter, students learned the history of New Orleans regarding the French and Spanish influences through two guided walking tours.

Cutline: (Left to right) Ashlee Orth, Courtney Crawford, Rylea Rains, Ericka Norris, Krista Vogts, Callie Dunlap, Shayla Wente.