Outstanding faculty awards for spring 2016 announced at Fort Hays State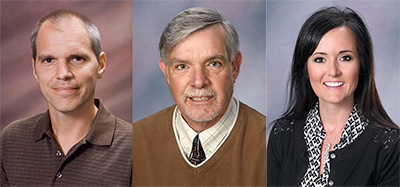 05/03/16 kb
HAYS, Kan. - Spring winners of Fort Hays State University's faculty awards for service, scholarly activity and research, and teaching have been announced.

Dr. Stephen Donnelly, assistant professor of chemistry, won the Outstanding Teacher Award. Dr. Leo Herrman, associate professor of psychology, was honored with the Outstanding Scholarly Activity and Research Award, and Dr. Elodie Jones, assistant professor of teacher education, received the Outstanding Service Award.

Their awards were announced when the winners received surprise visits in their classrooms.

All three recipients received a $500 check for their accomplishments. Three other faculty members were recognized for teaching, scholarly activity and service in the fall 2015 semester.

Together with this semester's winners, these six faculty members will constitute the pool from which the Faculty Member of the Year will be chosen. That winner will be announced at the Fall Convocation in August. The Faculty Member of the Year Award carries a $1,000 cash prize.

Each of the five colleges of the university nominates outstanding faculty members to receive the awards. Recipients are selected by a committee appointed by the respective college deans.

Donnelly was recognized for his "tireless commitment to student learning and success, serving as a mentor to the best and brightest students and engaging "them in learning outside of the classroom" as well as inside. He was particularly cited for his work with students in the Kansas Academy of Mathematics and Science. "The teaching environment that he creates is one that challenges, supports, and inspires students," said one nomination letter.

Herrman, after a career as a clinical psychologist, returned to FHSU to direct the clinical psychology graduate program. The nomination letter for Herrman cited his work with this year's cohort of clinical students in the area of research design and statistics. That work resulted in "remarkable performance" on standardized capstone test scores for these students. "He sets a high benchmark toward which colleagues and students fervently strive," said one nominating letter.

Jones was nominated for the Service Award for the knowledge she brings to her field and for her work in taking service education global through, among other things, coordinating service-learning work in Belize, where she took a group of students to work in a small community school on Ambergris Cave Island. "She collaborates with her scholars while making outstanding contributions to FHSU, the community, state, and nation," said one nominator.