Three Fort Hays State football standouts taking next step in pursuit of medical careers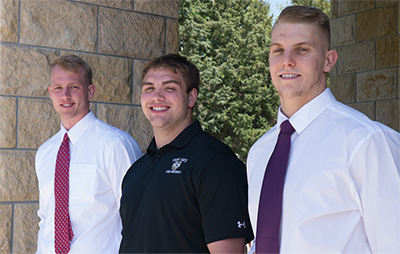 05/17/16
By Diane Gasper-O'Brien
University Relations and Marketing
HAYS, Kan. -- They all came to Fort Hays State University on football scholarships following all-state performances their senior year in high school.

Jesse Trent, Zack Gaughan and Garrett Holle also brought with them high academic credentials when they stepped foot on campus in fall 2011.

But it's another activity that is referred to as both a sport and an art that the trio agrees proved to be its key to success.

"Juggling," Trent said as Gaughan and Holle both nodded their heads.

They mastered the art of juggling responsibilities in their five years on campus so well that they all lettered four years in football, finished with high grade point averages, graduated at last weekend's commencement and are headed to Kansas City this summer to further their education in medical professions.

Trent and Gaughan will attend the KU School of Medicine, and Holle is enrolled in KU's physical therapy program -- all at the University of Kansas Medical Center.

"You learn to juggle," said Trent, a cellular molecular biology major from Dodge City who played in 44 career games at defensive lineman for the Tigers. "If you didn't, you wouldn't survive.

"I think that's what separated us from all other med school applicants," added Trent, who graduated summa cum laude. "When you're taking high caliber classes and playing a college sport, you have to learn how to make the best use of your time."

Besides the pursuit of medical careers, the threesome has something else in common. Trent, Gaughan and Holle were part of Coach Chris Brown's first recruiting class in 2011 that has helped the Tigers rebuild a struggling program.

In Brown's first five years, the team increased its number of victories by one each season. Trent had used up his football eligibility last fall, but Gaughan and Holle -- who redshirted their freshman year -- were instrumental in leading the Tigers to post-season action for the first time in 20 years.

FHSU posted an 8-3 record in the Mid-America Intercollegiate Athletics Association, one of the toughest conferences in NCAA Division II, and finished 8-4 after a bowl game loss to the University of Minnesota-Duluth.

While Trent, Gaughan and Holle are excited about moving on, they are looking forward to keeping up with FHSU football from here on out. After all, they are a big part of something special.

"It means the world," said Gaughan, a physics major from Hays who played all 45 games of his FHSU career at tight end and graduated magna cum laude. "I don't know of a better feeling than to look back and be so proud of what you and a group of people accomplished together."

Another perk in staying home to go to college, Gaughan said, was that his family had to travel on game day only half the season.

"This was so great," he said of the experience, "not just for us players, but for our fans to get to grow together as well."

Holle said it was an adjustment for him coming to rural northwest Kansas from the Phoenix metropolitan area. In fact, his first night on campus, Hays was in a tornado warning. But, he said, it was football, and the people he hung around with day in and day out, that made him want to stay.

"Football taught me all sorts of life lessons, especially on accountability," said Holle, a biology major who played wide receiver for the Tigers. "Sometimes when something goes wrong, people blame others. That's not accepted on a sports team."

Trent has aspirations of getting into sports medicine and becoming an orthopedist.

Gaughan has several dermatologists in his family, including one of his grandfathers and an uncle, so that's a possible route he will take.

Holle, who rebounded from three knee surgeries while at FHSU to enjoy his best season his senior year, said he would like to own a physical therapy and strength and conditioning center some day.

Brown wasn't surprised while listening to his former players' career goals.

"They're highly motivated guys who set their sights on something; they had a plan, and they stuck to it," Brown said. "And they made it."

"Impressive, amazing," FHSU President Mirta M. Martin said. "That's what Fort Hays State is all about -- selfless, dedicated individuals on the field and off the field, and a strong commitment to excellence. They're not only improving their lives but others around them. They make us proud."

Trent has similar feelings about Fort Hays State. He was chasing the Division I dream until he visited FHSU.

"Coach Brown recruits players of high character who are good football players," Trent said. "He has done a great job of blending western Kansas players with kids from all across the nation.

"Coach Brown is why I came here," he added. "When I met him and some of the staff, I couldn't say, 'No.' And I really liked the biology department. This was home from the get-go."

Brown grinned. Hands in his pockets, he looked like a proud father while talking about the first med students of his coaching career.

"It's huge," Brown said of the trio's impending success in the medical field. "I'm counting on them taking care of me someday."

Cutline: From left are Gaughan, Trent and Holle.