Chapman can't brush off attention; FHSU Foundation unveils portrait of retiring president, CEO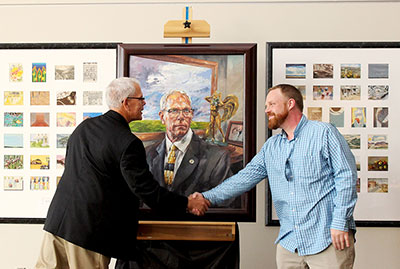 06/28/16
By Diane Gasper-O'Brien
University Relations and Marketing
HAYS, Kan. -- Tim Chapman isn't accustomed to being on this side of the canvas, and he admits it felt a bit strange.

So when entrepreneur/philanthropist Steve Shields from Manhattan finally convinced Chapman to commission his portrait, Chapman said "It was so humbling." Now, Chapman calls it an extreme honor.

Chapman, stepping aside this month after 10 years as president and CEO of the Fort Hays State University Foundation, will be keeping an eye on his co-workers even in retirement.

A large painting of Chapman was unveiled at a private retirement reception last week in commemoration of his successful career.

Chapman -- a world-renowned artist himself, who specializes in 2-D and 3-D mediums -- said that Shields had been after him for a while to commission his portrait to hang in the Robbins Center, home of the FHSU Foundation.

"I kind of battled him on it," Chapman said, "but when he found I was going to retire, he said he was going ahead with it with or without my consent."

Shields, an FHSU student in the mid-1970s and long-time donor to Fort Hays State, said he thinks the portrait is a good way to continue to draw on Chapman's leadership and that "we need to be better in our society about honoring successful leadership."

During his tenure at Fort Hays State, Chapman launched the most ambitious fundraising effort in FHSU history -- the Cornerstone Campaign, which raised more than $68 million.

"Tim is a focused, yet personable leader who transformed the organization from an Endowment Association into a robust university foundation," Shields said. "I love to see leadership in action and have very much enjoyed watching the seeds of Tim's leadership bear fruit during his tenure. Commissioning a portrait of Tim to be hung in the foundation building is my small way of honoring his leadership."

Shields approached Joel Dugan, assistant professor of painting in FHSU's Department of Art and Design, to "capture the energy of our foundation leader," Dugan said.

Dugan said he was honored and nervous at the same time.

While this was a new role for Chapman, it was an unusual situation for Dugan as well.

"Tim is one of the few sculptors in our region who works so often from the human form," Dugan said, "so he's not just an everyday client. The hardest thing is 'How often do you do portraits of artists?' I wanted to do it justice and meet the approval of some of that skill level."

Dugan also said he wanted to portray the entire embodiment of the man that makes up Tim Chapman.

"When executing this portrait, it was essential to me to show the multifaceted sides of Tim," Dugan said. "A talented sculpture, academic and family man, Tim is a true embodiment of the modern Renaissance man."

So Dugan asked Chapman to bring along some things close to him. Dugan chose one of his bronze statues in memory of his family and a photo of him and his wife, Mona.

Dugan also felt that painting Chapman's portrait was a way of thanking him for his concern for the arts.

"As a fellow artist, Tim has been integral in highlighting the needs and achievements of our students and faculty members at large," Dugan said.

Chapman's last full day at the foundation is Thursday, but he will remain as a consultant to his successor, Jason Williby, and his staff, as the foundation embarks on its next campaign, "The Journey," later this summer.

Plans are to hang Chapman's portrait in the art gallery of the Robbins Center, so his presence will be felt long after he walks out the door for the final time.

"It is often said that some people enter our lives and leave quietly while others stay forever," said Dr. Mirta M. Martin, Fort Hays State president. "Tim will be forever part of the fabric of Fort Hays State University, and I am very grateful he is part of my life. His portrait will bear witness to the determined, insightful and forward-thinking legacy that we have achieved under Tim's leadership."

Dugan agreed.

"I hope that my painting can help to capture Tim," he said, "and highlight the dynamic individual we all know -- for years to come."

Cutline: FHSU's Tim Chapman and Joel Dugan shake hands following the unveiling of Chapman's portrait, which was painted by Dugan.