FHSU Foundation selects Williby as new president, CEO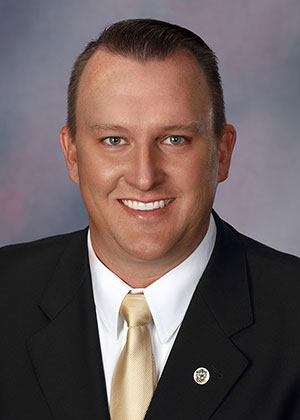 06/20/16 rg

HAYS, Kan. -- The Fort Hays State University Foundation has named Jason Williby as its new president and CEO. Williby had served as director of development for the university's fundraising arm since 2014. The two years prior he was the foundation's vice president of institutional advancement.

Williby, who grew up in Oberlin, takes over as president on July 1. He replaces Tim Chapman, who announced in January he was stepping down as the Foundation's president, effective June 30. Chapman will remain on staff in an advisory role during the transition.

"The past decade of leadership from Tim Chapman has propelled us to new heights, with a great staff and incredible alumni and donor support," Williby said. "I want to thank him specifically for his hard work; none of our work would be possible without his positive leadership. I look forward to following suit and taking the FHSU Foundation even further."

Williby was selected as the next president/CEO following a rigorous application process. He was chosen from a field of 50 applicants and three finalists.

"During the arduous selection process, Jason clearly articulated his vision for the future of the Fort Hays State University Foundation," said Jeff Peier, chair of the Foundation's executive committee. "I look forward to continuing to work with Jason and his dedicated Foundation team as he seamlessly transitions into his new leadership role and continues to build on the historic success of the Foundation. I have every confidence that Jason will be extraordinarily successful in building the culture of philanthropy about which he is so passionate."

Williby, a graduate of FHSU, is incredibly passionate about his alma mater and considers FHSU his home.

"My vision for the Foundation is that we build a culture of philanthropy starting from the day freshmen move into the residence halls, throughout their life as a student and an alum," he said. "The importance of people making their annual gifts cannot be overstated to the students."

Williby knows there are challenging times facing fundraisers and higher education.

"We have a couple of challenges in front of us," he said. "One, we'd like to have a stronger agriculture and oil economy, but those things come and go."

State funding is a second challenge, with FHSU facing another budget cut of almost $1 million following the budget that Gov. Sam Brownback signed in May, which cut $30.6 million from higher education budgets.

"There's a real pressure on the university in the decrease in state funding, which means the university is going to lean on the Foundation even more with private dollars to support them," Williby said. "That's a message that alumni and our friends need to know, and know how important they are to us right now."

Prior to joining the Foundation, Williby was executive director of the Wyandotte County Chapter of the American Red Cross from 2007 to 2012.