FHSU football players spend lunch tossing books into children's hands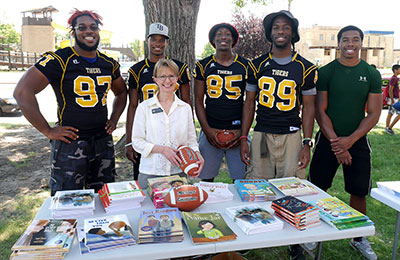 06/21/16
By Sophia Rose Young
FHSU University Relations and Marketing
HAYS, Kan. -- South on Main Street in the 97-degree heat Tuesday, Fort Hays State University football players stood across the street from the Hays Aquatic Park in Early Childhood Connection's lawn with brand new books spread across the tops of four long tables.

"We are hoping to get books in the hands of students to lessen the reading loss over the summer," said Dr. Valerie Zelenka, assistant professor of teacher education. "We want to instill a love of reading in the children."

After multiple brainstorming sessions, Zelenka, along with FHSU wide receiver Isaiah Maxi and Allen Park, instructor of teacher education, started the South Main Street Book Distribution Project. The project, which is supported by Midwest Energy's Community Fund and the Kansas Health Foundation, has allowed for FHSU football players to start handing out $5,000 worth of books to elementary school age children.

Maxi said that there is concern about low-income children not having books to read over the summer. "I was that kid; I didn't have much growing up," he said.

Maxi's love for football is as strong as his love for children and the City of Hays. He works for FHSU's Tiger Tots and the Hays Recreation Center and has applied for daycare positions. He said he wants to do more to help kids and do what he can to make the community better before he graduates.

"The community has done a lot for me," he said. "I feel it's my obligation to give back."

As children passed by to eat lunch at ECC and to visit the Hays Aquatic Center, five members of the FHSU football team were handing out high-fives, football tosses and the books.

Football players present were: wide receiver Bilal Salat, agricultural business major; tight end J. J. Lewis, sports management major; defensive tackle Nathan Shepherd, political science major; linebacker- defensive back Jeron Caraway, marketing major; and Maxi, organizational leadership major.

The South Main Street Distribution Project will continue to pass out books during the summer and hopefully into the fall, Zelenka said.

Cutline: Pictured from left to right is Nathan Shepherd, Bilal Salat, J. J. Lewis, Isaiah Maxi and Jeron Caraway. Dr. Valerie Zelenka is in front.