FHSU graduates give back as leaders of HCI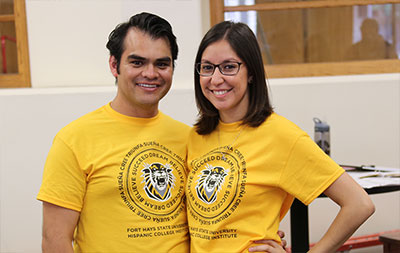 06/22/16
By Diane Gasper-O'Brien
University Relations and Marketing
HAYS, Kan. -- They are thankful for the doors that Fort Hays State University opened for them, and they are excited about giving back to fellow Hispanics.

FHSU graduates Hector Villanueva and Alma Hidalgo were right in the thick of things Wednesday morning as high school students from across Kansas, Colorado and Missouri climbed off buses to participate in Fort Hays State's first Hispanic College Institute.

So, too, was Dr. Mirta M. Martin, FHSU president, who was born in Cuba and grew up in Spain.

"I've been dreaming of this for two years," Martin told the group of student volunteers -- or leads -- as they awaited the arrival of the buses.

Martin, in her second year as president of Fort Hays State, had created a state-wide Hispanic College Institute when she worked in higher education in Virginia. And she wanted to give Hispanics in Kansas the same opportunities.

The development of HCI on the FHSU campus is what kept Hidalgo in Hays after she graduated in 2015 with a master's degree in student affairs.

"This was an incentive to stay one more year," said Hidalgo, who is an FHSU admissions counselor for the southwest Kansas area and three other states as well. "I wanted to be a part of this."

Students arrived in FHSU buses that drove around the state to bring them to campus. They will participate in leadership activities and numerous sessions that "will hopefully prepare them at least a little bit for college," Hidalgo said.

Villanueva, multicultural recruitment admissions counselor at FHSU, said "recruiting minority students is fun for me."

He is especially looking forward to this week, when he can hopefully make a difference for some first-generation college students from the Hispanic "familia."

Nearly 90 students heading into their junior or senior year in high school are participating in the free residential program.

"I think this could really help a lot of students," said Villanueva, one of 11 siblings and the only one to earn a college degree in the United States.

Villanueva was born in Mexico and didn't come to the U.S. until he was a freshman in high school when his dad got a job at a meatpacking plant in Garden City.

Villanueva knew no English and was placed in the English as a Second Language program.

"It was hard," he said. "I think this kind of thing helps students today get ahead faster."

He also hopes the students on campus this week take a liking to Fort Hays State, much like he and Hidalgo did.

Villanueva participated in Upward Bound at Garden City Community College for first-generation college students when he was in high school and got the chance to visit college campuses.

"I really liked the Fort Hays State campus and the tuition prices," said Villanueva, who graduated with dual degrees in business management and Spanish.

Ditto for Hidalgo, who grew up in Perryton, Texas, about an hour south of Liberal, where she attended Seward County Community College.

"I was scared to go to college, so I went to Seward, which was close to home," said Hidalgo, who took advantage of the Access to Academic Opportunity Grant at FHSU, which is available to incoming freshmen and transfer students.

"I came here," Hidalgo said, "and I fell in love with it."