FHSU president, graduate speak the same language when it comes to higher education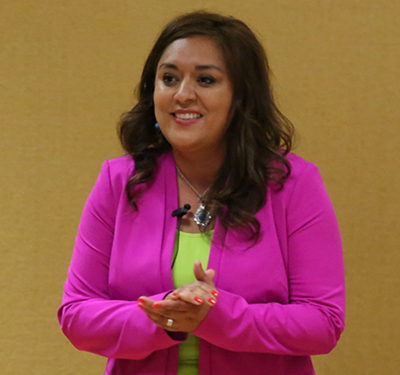 06/23/16
By Diane Gasper-O'Brien
University Relations and Marketing
HAYS, Kan. -- The goal is to give students pointers for a successful college career -- and to make them feel at home.

Welcome, students, to your home away from home.

From the get-go, Fort Hays State University President Mirta M. Martin got the attention of the nearly 90 high school students participating in this week's inaugural Hispanic College Institute.

They arrived on campus from across Kansas, Colorado and Missouri about noon Wednesday and spent the afternoon doing team-building activities and touring the campus.

Martin was on hand when the students arrived by bus, helping unload their belongings. Late in the afternoon at the opening ceremonies, Martin, a native of Cuba, delivered her welcoming speech in Spanish.

She told the students she was speaking in Spanish because she wanted them to understand that like their parents and like them, she was fluent in Spanish and she was proud of that ability.

"Having an accent in English should never be embarrassing," Martin said. "It means you speak a second language."

Following Martin's opening talk, the motivational speaker, Dr. Sonia Esquivel, intermingled Spanish and English while talking to her audience of teenagers heading into their junior and senior years of high school.

"I think they can relate to me because of my experiences," said Esquivel, who grew up in Garden City, the youngest of 10 children of Hispanic parents. She noted at the time that Finney County had the one of the highest -- if not the highest -- rates in the state for teenage pregnancies.

"We're all looking for the American dream. That's where you guys are right now," said Esquivel, who talked about her journey of juggling the responsibilities of teenager motherhood and college classes to earning a doctorate degree.

Esquivel now is an assistant professor and counselor at the U.S. Air Force Academy in Colorado Springs.

She said she was honored to be asked to speak at the first HCI -- and to have the chance to make a difference.

"I'm excited to be back at my alma mater," said Esquivel, who was accompanied on this trip by her 11-year-old daughter, Karina.

With her young son, Manny, at her side and with her parents' support, Esquivel worked her way up, earning an associate degree from Garden City Community College, bachelor's and master's degrees from Fort Hays State, and a Ph.D. from Kansas State University.

"I mention my parents a lot," Esquivel said, "because they had the biggest influence on me."

Esquivel also talked about the importance of friends -- old and new.

"I came here with about seven friends from Garden City, and I think there were only 20 Latinos on campus," she said. "What do you do when you go to a place where people don't look like you? You get involved so that you fit in. You make new friends."

That place could be Fort Hays State, stressed Martin, the first woman president at FHSU and the first Hispanic president in the Kansas Board of Regents system.

"When I started down this path, I didn't have a community of people to support me," said Martin, who escaped the Communist regime of Cuba as a 6-year-old, lived in Spain for a few years as a youngster before coming to the United States at age 10, unable to speak English.

"Here at Fort Hays State, you don't only have a community, you have a family to support you," she said. "As the fastest-growing minority in the United States, you need to be educated so you have access to meaningful careers; you need to be educated so you are an integral part of the economic engine of our state and of our nation."

Martin started the HCI -- a four-day residential program for Hispanic and Latino high school students to learn about the college admissions process -- from a similar model she used while working in higher education in Virginia.

"As the only Hispanic (university) president in the state, I understand your values. They are my values. They are the values of Fort Hays State University -- hard work, sacrifice, dedication, loyalty," Martin said. "Together with close to 1,300 faculty and staff, we are all here for you to guide you so you can achieve your American dream.

"I want all of you here so you can seize that opportunity, an opportunity that can only be achieved through education," she added. "Regardless of where you go, the goal is to get you to college and then to ensure you graduate from college. At Fort Hays State University, we are uniquely positioned to make your dreams a reality."