FHSU well represented at Miss Kansas Pageant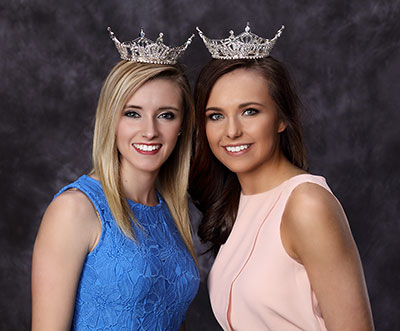 06/10/16 dgo

HAYS, Kan. - Fort Hays State University has been well represented at this week's Miss Kansas Scholarship Pageant in Pratt with two FHSU students participating.

Preliminaries began Tuesday, with the finals set for 7:30 p.m. Saturday at the Dennis Lesh Sports Arena on the campus of Pratt Community College.

Among the list of 36 participants at the 75th anniversary of the pageant are FHSU students Kelsey Cohoon from Jetmore and Sierra Archer from Valley Center.

Cohoon advanced to the Miss Kansas Pageant by winning the Miss Cowboy Capital Pageant in Dodge City in January. Archer qualified by virtue of being crowned homecoming queen at Fort Hays State last fall.

Miss Cowboy Capital and Miss Fort Hays State have been participating in preliminary competition all week in an effort to advance to Saturday's finals competition.

A parade down Main Street in Pratt is scheduled for 6:30 tonight, with the finals on Saturday night.

Win or lose, Archer said it's been "fun to compete on the Miss Kansas stage, and I'm hoping I'll get to show off who I am again on the stage this Saturday as a finalist.

"But no matter what the outcome," she added, "I'm happy I chose to be a part of the Miss Kansas Class of 2016!"

Cutline: At left is Kelsey Cohoon; on the right is Sierra Archer.