From Fort Hays State to Mars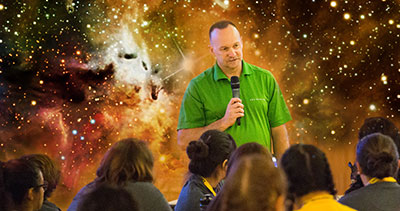 06/24/16
By Diane Gasper-O'Brien
and Randy Gonzales
University Relations and Marketing
HAYS, Kan. -- Joe Erdman looked at the group of teenagers in the audience and smiled. Then he proceeded to tell them they could be the next Joe Erdman.

Erdman, a 1985 graduate of Fort Hays State University, was the featured speaker at Friday's Hispanic College Institute at his alma mater.

From a small high school in western Kansas -- Thomas More Prep-Marian High School in Hays -- across town to college at FHSU, Erdman now is working on the Orion project. Orion is America's next generation spacecraft for NASA's mission to Mars.

Erdman told the nearly 90 students from across Kansas, Colorado and Missouri how "you don't have to be the smartest student in your class to succeed."

But you do have to work hard and take advantage of opportunities that come your way. Erdman, whose bachelor's degree is in industrial education, did just that.

After starting work as a draftsman at Martin Marietta Corp. in Littleton, Colo., he has worked his way up to a systems engineer for NASA's Orion spacecraft. After Lockheed Martin Space Systems Co. in Littleton won the bid as prime contractor for the program, Erdman was put in charge of harnessing integration for the service module of the capsule.

Orion, set to launch in 2018, will take astronauts to exciting destinations never explored by humans. It will serve as the exploration vehicle that will carry the crew to distant planetary bodies, provide emergency abort capability, sustain the crew during space travel and provide safe reentry from deep space.

There are 40 miles of harnessing in the service module alone, Erdman explained.

Currently under development by NASA for launch on the Space Launch System, Orion is intended to facilitate human exploration of asteroids and Mars.

Erdman didn't have a degree in engineering because "I didn't have the confidence in myself academically to go into engineering." However, he worked on his Master's of Telecommunication degree at the University of Denver, completing it in 1992.

The HCI, in its first year at Fort Hays State, is a four-day residential program for Hispanic and Latino high school students to learn about the college admissions process. Several speakers were brought in to talk with the students. During a question-and-answer session with the students, one girl asked Erdman what he liked least about his job.

"Probably the paperwork," he said.

His favorite part? "The integration," he said. "I get to work with space launch systems, group support, the crew module."

After Erdman's presentation, Steve Jacobs, chief scientist with Faraday Studios, led an interactive talk with the students from his studio in Wichita. Jacobs' presentation was about science communication.

"Scientists have to explain in single language what's going on," Jacobs told the HCI students via a remote broadcast on a big screen in the Memorial Union's Ballroom. "A science communicator tries to get you to think like a scientist."

Jacobs had the students conduct simple experiments using items such as golf balls, ping pong balls and balloons.

Friday's activities for science, technology and math started off early in the morning with a high-altitude balloon launch on campus near the Robbins Center. The students contributed personal items such as signed ping pong balls to the payload.

The balloon set a new school record with the launch, reaching a height of 100,200 feet -- almost 20 miles. Dr. Jack Maseberg, associate professor of physics at FHSU, led the recovery effort of the balloon. The ping pong balls which were on board were returned to the students.