One week, two Hall of Famers for FHSU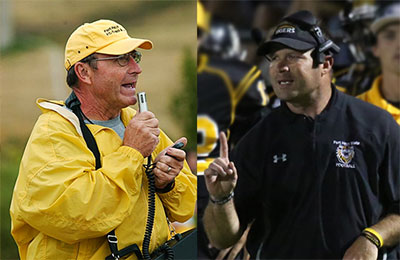 06/07/16
By Diane Gasper-O'Brien
University Relations and Marketing
HAYS, Kan. - Most of the talk in the sports world over this past weekend centered on the legacy of all-time great athlete and spokesman Muhammad Ali, who died Friday at the age of 74.

Meanwhile, Fort Hays State University was celebrating the accomplishments of a legendary figure of its own, and another in the making.

Fort Hays State, which has enjoyed the fortune of having a lot of successful coaches during its long history of athletics, had the honor of having not one, but two, coaches inducted into separate Halls of Fame in a span of five days.

Jim Krob, who coached cross country and track and field at FHSU from 1987 to 2005, was honored at the Kansas State High School Athletic Association Track and Field Championships in Wichita on May 28. Krob was inducted into the KSHSAA Hall of Fame in the faculty division.

Then on June 1, current Tiger head football coach Chris Brown, in his sixth year at the helm, was inducted in the Hall of Fame of the Mid-America Intercollegiate Activities Association in a ceremony in Kansas City, Mo.

Brown was inducted as a player in honor of his career at Pittsburg State University, where he was a three-time All-American at safety.

Both Krob, 75, and Brown, 41, are members of other Halls of Fame as well.

Ali won three world heavyweight titles, but the accomplishments of - and personal relationships with - Krob and Brown are near and dear to FHSU Athletic Director Curtis Hammeke.

"We've been very fortunate to have those kind of quality people working at Fort Hays State over the years," said Hammeke, in his 12th year as FHSU's AD who called it a "pleasure" to have worked with the Hall of Fame duo. Hammeke served as the Tigers' head baseball coach and assistant director of athletics from 1991-96 during the middle of Krob's coaching career, then returned to his alma mater as athletic director in 2004. He hired Brown in late 2011 to resurrect a struggling football program.

"That's what we strive for - to have good leaders," Hammeke said, "good coaches who really care about the kids."

Krob came to FHSU from Bethany College in Lindsborg in 1987, where he won seven consecutive league track and field titles, and coached the Tigers to five straight conference championships. He continued to teach for an additional nine years after stepping down from coaching and has been working as a referee for high school track and field meets for the past 12 years.

Krob is still a visible presence on campus. He said he still has a computer in the Tigers' track and field office, and he served on the planning committee for the new track and field complex currently under construction just south of FHSU's soccer facility adjacent to the Bickle/Schmidt Sports Complex.

"I see him around at Tiger Club (meetings) and around the coliseum," Brown said. "I know who he is."

Ditto for Krob.

"He's one of the nicest football coaches, nicest people, I've ever been around," Krob said of Brown. "He has worked so well with the track program, and not all football coaches do that. We're fortunate to have him."

While Brown earned his latest honor as a player for one of FHSU's MIAA rivals, it's his coaching success that has Tiger fans excited.

Under Brown, the Tigers have improved by one victory every year since his arrival. Following back-to-back winning seasons in 2013 and '14, FHSU tied the school record for most victories in a season in 2015 en route to an 8-4 campaign. Under Brown, the Tigers advanced to post-season action last fall for the first time in 20 years.

Following losing seasons in five of the previous six years before Brown's arrival, his coaching record at FHSU is now above .500 (30-26). The last coach to accomplish that was Bob Cortese nearly 20 years ago. And the Tigers' overall record last year put Brown in elite company. Only three other coaches in FHSU's 100-plus years of playing football have won eight games in a season.

All those are just numbers to Brown, who said he gives credit for the Tigers' success to his coaches and players.

"I enjoy being involved in the kids' lives and getting to know them as people. They and my coaches are the ones who make this all possible," Brown said. "When I graduated (from college), that's what I wanted to do, to teach and coach and try to give back."

Mission accomplished.

"I don't think there's any question about it, he provides leadership and teaches the kids how to conduct themselves on the field, and off," Hammeke said. "There's a lot of life lessons to be learned through athletics, and Coach Krob did the same thing.

"I'm really proud of them," Hammeke added, "how they represent not only themselves but how they represent the university and city of Hays."

Cutline: On the left is Jim Krob; on the right is Chris Brown.