Participating in Leadership Kansas is a joy for Fort Hays State VP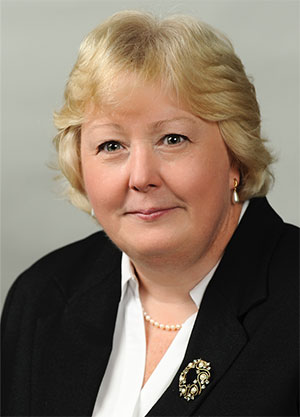 06/15/16
By Diane Gasper-O'Brien
University Relations and Marketing
HAYS, Kan. -- One of the most enjoyable things about any job she has ever had, Dr. Joy Hatch says, is working with people.

So Hatch must be enjoying her position at Fort Hays State University immensely.

Hatch not only sees a variety of folks each day across campus as vice president for technology, but this year she also will network with people around the state on a monthly basis. Hatch is a member of the 2016 class of Leadership Kansas, one of the oldest and most prestigious state leadership organizations in the country.

Hatch, who lived in several countries while growing up and has worked in several states during her professional career, lived in the Wichita area from 1990-2001. She served as Chief Information Officer at Friends University for four years before taking a similar position at Bellarmine University, a Catholic liberal arts institution in Louisville, Ky. She returned to Kansas in January 2015 from Richmond, Va.

For six years prior to coming to FHSU, she was vice chancellor for Information Technology Services for the Virginia Community College System. She was responsible for enterprise technology applications and services for nearly half a million students at 23 colleges located on 40 campuses across the Commonwealth of Virginia.

It didn't take long for Hatch to get reintroduced to the Sunflower State. Less than a year on the job at FHSU, Hatch was chosen as one of 40 members of this year's Leadership Kansas class.
Members of the Kansas Chamber of Commerce program often are referred to as the "Who's Who" of Kansas. They meet once a month for seven months, covering topics that range from economic development and tax policy to agriculture and urban development.

Co-workers at Fort Hays State immediately recognized Hatch's leadership qualities after her arrival on campus.

One of those was DeBra Prideaux, executive director of the Alumni Association who nominated Hatch for this year's Leadership Kansas class.

"Leadership can be learned, but the truly successful and visionary leaders such as Dr. Hatch have the innate ability to reach consensus, motivate those around them effortlessly, and successfully advance whatever projects or programs they undertake," Prideaux said. "She is a dedicated and hardworking professional who is universally respected by her peers and is recognized as a state and national leader."

Prideaux, a 2007 graduate of Leadership Kansas, said she has "a deep appreciation for the program" herself and that "Joy Hatch epitomizes the very essence of the program."

"You can never learn too much about where you live," Hatch said, "and this is about learning about what the problems of Kansas are and how I can help."

There are annually about 700 nominations for Leadership Kansas, and a few hundred actually apply. It was an opportunity Hatch welcomed with open arms.

"Leadership is about relationships," Hatch said. "Wherever I go, I throw my heart and soul into what's going on."

She said she was excited when she learned she had been chosen as a member of the elite, diverse group.

"This is about what's happening in Kansas, and I'm looking forward to learning about the diverse aspects of Kansas," Hatch said. "I think this will help me gain insight into the dynamics of Kansas business and industry. Then I can use that information to influence how Fort Hays State University delivers programs and services to better meet the needs of Kansans and beyond."

She also is looking forward to July's meeting, when Leadership Kansas is scheduled to meet in Hays.

"This can be a great advertisement for Fort Hays State," she said. "This is a great way to get people across the state to recognize what Fort Hays State is all about."

Hatch is a great advertisement for FHSU as well, FHSU President Mirta M. Martin said.

"Dr. Hatch is a visionary leader in and well beyond the boundaries of Kansas," Martin said. "She has brought credit to any venture she has undertaken, be it personal or professional. She sets high standards for every project she starts and is sought after for her knowledge and experience."

Hatch hopes to bring that experience back home to western Kansas.

"Students are going to drive the economy in Kansas and help Kansas grow," she said. "It's good to learn what effects Fort Hays State will have on these areas in Kansas."