SMEI camps help FHSU students make career choices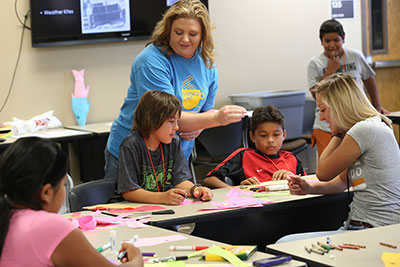 06/30/16
By Randy Gonzales
University Relations and Marketing
HAYS, Kan. -- Do I want to be a teacher?

Some undergraduate students at Fort Hays State University can find out first hand if they want to become math or science teachers through a grant received from the Robert Noyce Teacher Scholarship Program. For the third year, six Noyce Scholars participated in FHSU's Science and Mathematics Education Institute's summer camps throughout the month of June.

There were six, four-day SMEI camps on the FHSU campus for students ranging from second graders to eighth graders. FHSU students selected as Noyce Scholars were provided hands-on experience in teaching the youngsters. They helped keep things running smoothly, engaging with the students and putting them in groups for the experiments.

"The instructors very much appreciate the help of the Noyce Scholars," said Ann Noble, program specialist and financial administrator for the Kansas Academy of Mathematics and Science, who is also SMEI's financial administrator.

Alyssa Gottschalk, from Broomfield, Colo., will be a junior at FHSU this fall, majoring in biology education. Teaching at the SMEI camps led Gottschalk to reconsider her future plans.

"I just kind of decided I was interested in teaching; I wanted to see what it was like," she said. "I was planning on majoring in secondary education. Now, working with the younger kids, I'm actually thinking I want to (teach) younger, middle school, maybe. It's got me thinking a little bit."

Raquel Tomsic, from Goodland, will be a sophomore at FHSU, also majoring in biology education. Teaching at the SMEI camps reinforced her career choice.

"It really confirmed my calling into teaching," Tomsic said. "I really enjoyed it; it's been a lot of fun. I'm on board now -- 100 percent.

"I think it just built more confidence that I can do it," she added. "We each teach a lesson. We have to teach each week, one-on-one with the kids. It just built more confidence in me."

Gottschalk taught the children about the science of aerodynamics using balloons in hovercraft experiments. She had to prepare for that day's activities.

"I had to go and research it and put together a lesson," Gottschalk said. "It was kind of a good experience."

On another day during aerodynamics week, campers built kites to see which ones worked best in low wind. They built and tested three kites, then recorded the results on personal log sheets.

"They practice being scientists," said Dr. Valerie Zelenka, assistant professor of teacher education at FHSU. "They make predictions, then they record their experiments. They also design their own kite based on what they learned."

Cari Rohleder, project director in the Science and Mathematics Education Institute, sees campers come back from one summer to another in her role as camp director.

"It's fun to see the repeats come back and see what they remember from year to year," she said. "Even the new children we have come, what they come up with is amazing."

On the day campers worked on their kites, 7-year-old Jaylen Hughes said she was having fun.

"I like building things," she said. "I like to fly kites."

Rohleder starts working on the following summer's SMEI camps in the fall, recruiting instructors to help out, ordering supplies, brainstorming new ideas. It all comes to fruition four weeks in June.

This year, in the first week, there were two camps involving robotics, one just for girls. In the second week, there was a camp for improving math skills while incorporating physical fitness. That week, there was also a camp involving rockets and the engineering design process. In the third week, campers discussed different engineering fields. They built everything from robots to flashlights and designed things like bridges and aerodynamic cars and planes. The final week was devoted to the study of aerodynamics.

"It's been a lot of fun," Gottschalk said. "Each camp is a little bit different. They're all different science activities."

Teachers and administrators agree on the necessity of having SMEI summer camps.

"It is very important for children to have a fun summer activity outside of the regular school classroom because they are not being tested, but instead having fun while learning math and science," Rohleder said. "We hope the students can take the knowledge they learn at summer camps and apply it to everyday life."

"We really do focus on the STEM disciplines. (The camps) have been fun in different ways," Noble said. "I love the little kids because they're so excited and eager to learn."

"The one thing I think is the neatest is that we get to offer this to all the community members but also faculty and staff at Fort Hays State," Zelenka said. "I think it's awesome they can send their children and grandchildren right here on campus."

"The FHSU Science and Mathematics Education Institute feels it is necessary to give back to the community," Rohleder said. "These opportunities give children a fun and safe environment to learn about STEM and the endless possibilities available in these areas."