Science Café explores deep space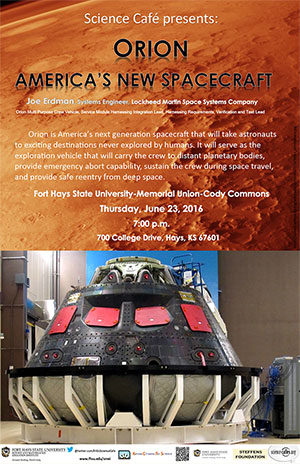 06/08/16 rg
HAYS, Kan. - Joe Erdman, a Fort Hays State University graduate who works for Lockheed Martin Space Systems Company, will speak at a Science Café at 7 p.m. Thursday, June 23, at Cody Commons in the Memorial Union on the FHSU campus. Erdman, who is scheduled to speak at the inaugural Hispanic College Institute on the FHSU campus earlier that day, is a systems engineer with NASA's Orion project -- an initiative for deep-space exploration.

"He's the guy who makes sure it's working," said Dr. Paul Adams, dean of the College of Education.

Erdman's presentation will cover the Orion spacecraft, America's next generation spacecraft that will take astronauts to exciting destinations never explored by humans. It will serve as the exploration vehicle that will carry the crew to distant planetary bodies, provide emergency abort capability, sustain the crew during space travel and provide safe reentry from deep space.

This Science Café is sponsored by the FHSU Science and Mathematics Education Institute. Admission is free, and the public is invited.