Sternberg provides summer full of science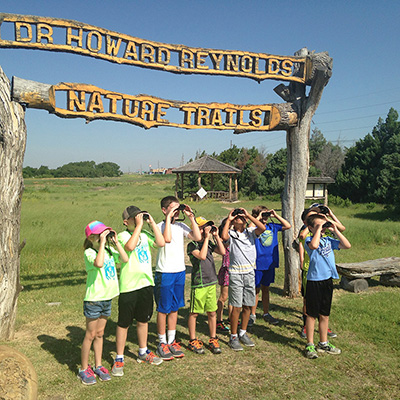 06/17/16
By Randy Gonzales
University Relations and Marketing
HAYS, Kan. -- If birds of a feather flock together, so do children interested in science. At least, that's been the case for the summer science camps hosted by Fort Hays State University's Sternberg Museum of Natural History.

The Sternberg Museum Summer Science Camps and Programs is in its third year. It has camps for elementary school children, middle schoolers and high school students. The final day camp at Sternberg for elementary school children was completed this week. Children had a chance on different days to study rocks and minerals; fossils; reptiles and amphibians; mammals; birds; and plants, insects and spiders. Melanie Falcon, a science teacher at Wilson Jr./Sr. High School, was the primary instructor for the elementary school camps. She was assisted by a student of hers, Libby Duncan, who will be a sophomore this fall at the high school.

One day last week, the appropriately named Falcon taught 10 children from age 6 through 10 all about birds.

"I wanted them to learn about flight and how birds can fly," Falcon said. "We watched a short cartoon video first about birds, about flight, the different kinds of feathers they have.

"We compared it to airplanes, because airplanes use the same sort of aerodynamics as birds," she added. "We talked about uplift and pressure above and below the wing and how that affects the flight of birds. The kids know birds can fly. That (video) talked about the how and why."

Falcon then had the children make two paper airplanes using different designs. Then they attempted to fly them.

"Some worked better than others," she said. "I wanted them to compare two different designs. They noticed that the first one we built didn't work very well. Those usually are the organisms that go extinct. The ones that are successful adapt over time to what we have today."

Later, the children went bird watching at the nearby Dr. Howard Reynolds Nature Trails.

"Bird watching is sometimes a hit or miss thing," Falcon said. "I felt we were very fortunate; when we first went out there we saw a great blue heron."

Carson Pinkney, Hays, is 7 years old and will be in the second grade in the fall. He liked bird watching.

"I studied them," he said. "I like how birds have cool stuff, and I wish I could fly, too. That would be pretty fun."

Falcon, in her first summer as a camp instructor, is used to dealing with students, just not with younger children all day. Falcon hopes to be a camp instructor again next summer and said she would make some adjustments now that she's had a year's experience.

"Teaching high school, I don't spend eight hours with little kids," Falcon said. "It definitely was a learning experience for me, being with young kids for that length of time. I think it worked out.

"We definitely over planned this year," she added. "We wanted to have a ton of activities and see what fit with the kids."

Duncan said she learned a lot about science while being Falcon's assistant this summer. She wants to pursue a career in science.

"I definitely want something to do in life science," she said.

Falcon said Sternberg's hosting of the camps provides an outlet for children interested in science. Her own son has been a science camper at Sternberg the past two summers.

"I think it is amazing for kids, especially for those not necessarily into sports," Falcon said. "There are some children -- including my own son -- who really love science.

"I love the fact that Sternberg offers these camps for elementary students so they can be involved in something they do well," she added. "The kids that do come, come with the love for the outdoors already. We're furthering their information, maybe what the elementary teachers don't have time to teach in school, but the kids really want to learn. I think it's a wonderful avenue to further their education."

Falcon, who graduated from FHSU in 2007 with a bachelor's degree in biological sciences and secondary education, knew Curtis Schmidt, Sternberg's curator of zoology, while they were in college. While teaching at Wilson, she often took her students to Sternberg, and she got to know the staff at the museum. When Sternberg education director David Levering was looking for a camp instructor for this summer, Schmidt thought of Falcon.

Falcon said she is continually learning, just like her students at the summer camps.

"I enjoy it," Falcon said. "I think it's a lot of fun."