Wichita Area Technical College, Fort Hays State to enter partnership with June 30 signing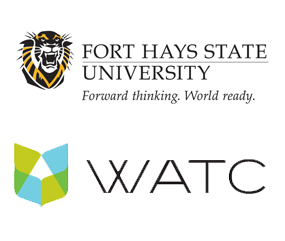 06/27/16 kb
HAYS, Kan. -- Wichita Area Technical College will be the newest partner with Fort Hays State University in the university's Technology Leadership Program when WATC President Sheree Utash and FHSU President Mirta M. Martin sign a transfer agreement at 1 p.m. Thursday, June 30, in the main lobby of the Gateway Administration Center of WATC's National Center for Aviation Training Campus, 4004 N. Webb Road, Wichita.

The applied technology to technology leadership program is a 121-hour, interdisciplinary program built on the Associate of Applied Science degree that a student earns from WATC. Under the agreement, up to 60 hours of credit will transfer to FHSU toward the Bachelor of Science in Technology Leadership. The transferred credits can include up to 40 hours of applied technology credits among the required general education credits.

At FHSU, students will complete a minimum 60 hours, which includes 45 hours of upper division courses, of which 33 are the core degree requirements.