Donors recognized for investment in entrepreneurship at Fort Hays State University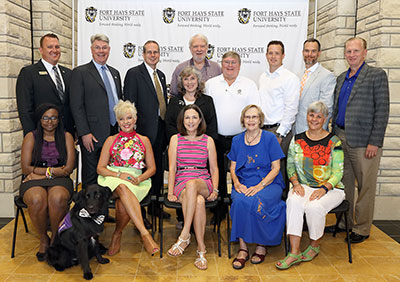 07/26/16 hjb/dgo

HAYS, Kan. -- A $3.5 million donation from the foundation of a northwest Kansas philanthropist made possible the construction of the Dane G. Hansen Scholarship Hall at Fort Hays State University.

Gifts and contributions from many other individuals will help support the university's entrepreneurship program and the residence hall that will house 32 entrepreneur-minded students and a resident assistant. Those donors were recognized at a news conference in the FHSU Memorial Union, Tuesday, July 26.

The facility, set for completion for the fall 2016 semester, will create a nationally unique living and learning environment for students with a passion for entrepreneurship and starting their own businesses. Students of any major will be given the opportunity to develop the entrepreneurial
mindset and competencies necessary to compete in the global economy.

"This is an exciting time for Fort Hays State University," said Dr. Mirta M. Martin, FHSU president. "The next Microsoft or Google could potentially be created at our university by a Fort Hays State graduate. This is an incredibly unique facility as it offers an opportunity unlike many others for interdisciplinary program participation.

"Because of the vision and investment of the Dane G. Hansen Foundation and many other generous donors," Martin added, "students from any degree program will have the opportunity to learn how to start and be successful in their own business. I talk about investment because this is not a donation. This is an investment in the future of this great state. And the future starts with our students."

Several people spoke at the news conference, including Coleen Ellis, a 1987 graduate of FHSU who -- inspired by her entrepreneurial experiences learned at Fort Hays State -- created the first stand-alone pet funeral home in the country in Indianapolis, Ind., in 2003.

"Every one of us has our 'whys' for what we do in our entrepreneurial journey," Ellis said, "as well as our individual decisions to support this amazing new program here at FHSU and help other budding entrepreneurs."

"In today's economy, entrepreneurship is a participant's leg up to enter the business world," said Jim Nokes, a retired FHSU alum who has contributed financially to the entrepreneurship program. "Just like aspirational athletes, if you aspire to be an entrepreneur it requires not only aspiration, but training and development.

"This program provides both formal development and peer interaction. Whether students start small, or obtain financing to start a larger business, there are many pitfalls along the way. This program will allow FHSU students to avoid some start-up pitfalls, so that they can accomplish their dream. And in the end, they will have challenging and satisfying careers," he added.

Phyllis and Alan Slipke said: "FHSU provided us the tools to get where we are today. We cherish the experiences we have from FHSU and are very fortunate to be able to contribute back and help future generations of Tigers."

Naming options are still available within the facility, in support of the entrepreneurship program. To learn more, contact the FHSU Foundation either by phone at 785-628-5620 or by emailing foundation@fhsu.edu.

Donors have the opportunity for naming rights to the entrance to the building, the study lounge, patio, elevator tower, bedrooms and other areas of the building.

Mark Bannister, FHSU's dean of the College of Business and Entrepreneurship, thanked the donors, stressing how important "entrepreneurship is to northwest Kansas, to Kansas and to America.

"We at Fort Hays State University have found that many young people today want to control their own destinies and to have a positive impact on their communities through entrepreneurship," Bannister said.

"We believe that by equipping students from across campus with entrepreneurial skills and experiences, we can inspire students and open doors to opportunities that would otherwise be unavailable," he continued. "Through this effort, we can serve the people of Kansas by developing graduates with an 'entrepreneurial mindset' and abilities."

Henry Schwaller IV, director of FHSU's Entrepreneurship Center and instructor in the Management and Marketing Department, agreed.

"The investment and support of our donors has built one of the fastest growing entrepreneurship programs in the United States," he said. "Our focus on hands-on entrepreneurship learning is unique to Kansas and the region, and with the scope of programs we offer today, FHSU is truly the innovation hub of western Kansas."

"One of our jobs at FHSU is to attract Kansas' bright minds and keep them here so they can become part of the economic engine of the state," Martin said. "We now have an incredible facility to get those bright minds to Fort Hays State University."

An open house and dedication of the scholarship hall is planned as part of FHSU's 2016 Homecoming activities the first weekend of October, with an exact time still to be determined.

The completion of the scholarship hall is a fitting tribute to Dane G. Hansen and all that he represented.

"Dane Hansen was a strong believer in western Kansas, a promoter of education and was very much an entrepreneur himself," said Don Bickle, a longtime FHSU supporter. "I knew Dane Hansen well, and I know he would be very proud and pleased with the Hansen Foundation for its ongoing partnership with Fort Hays State University and its investment in this program.

Bickle was impressed how the scholarship hall "combines all of (Hansen's) greatest interests into one project."

"What a great way to recognize an incredible Kansas citizen who has given so much," Bickle said. "We're just so pleased to be a part of this program. I know he would be very proud and pleased with this program as well."

Many alumni, including Ken Griffin and Marcia Bannister, are excited about the opportunities that the Hansen Scholarship Hall will offer current students.

"Today, we give to Fort Hays State University for two reasons," Griffin said. "First, the financial gift is a part of our desire to 'pay it forward' for the next generation. Second, we believe that the Hansen Foundation Entrepreneurial initiative is a wonderful idea. It will make a huge difference in facilitating students seeking to link innovative ideas with the practical realities of developing new business ventures."

FHSU's entrepreneurship initiatives range from business startup weekends to a lecture series to entrepreneurship internships.

Supporting the Hansen Scholarship Hall is another way for BOK Financial executive vice president Daryl Craft to support his alma mater, a place that had a big influence on his life.

"I give Fort Hays State much of the credit for providing me a very solid education, a taste for always wanting to know more and the confidence to break out and try new and different experiences," Craft said. "I am a big supporter of the College of Business and Entrepreneurship at FHSU, and, of course, the Dane G. Hansen Scholarship Hall, a place for budding entrepreneurs to live and to learn."

Kevin Faulkner, vice president of investor relations at Apigee Corp. in San Jose, Calif., said he is "impressed with the programs that Fort Hays State has built to teach entrepreneurial skills."

"Having spent my career in Silicon Valley, I appreciate the economic benefits and business challenges of entrepreneurship. FHSU gave me a wonderful opportunity and a world-ready education," said Faulkner, who spoke at the news conference. "In paying it forward, I want to help students at Fort Hays State University gain the skills and the access to capital to help build businesses that will benefit not only those students, but also western Kansas communities."

Jim Barry, chairman of GreenEarth Cleaning, Kansas City, Mo., said he believes "that entrepreneurship is a key building block that sets America apart from the rest of the world."

"It gives me great pleasure to support such a worthwhile project," he said. "FHSU is making a major commitment to our future generations of business leaders."

"For those of you who invested generously in the future of this great state and the future of Fort Hays State University," Martin said, "please accept my gratitude, as well the gratitude of the faculty, the staff, and, ultimately, the students of Fort Hays State University."

Some donors made their contributions for naming rights in the Scholarship Hall in memory of others. One of those was Cy Moyer, Phillipsburg, president of the Hansen Foundation's board of trustees. His friend, Doyle Rahjes, was a member of the Hansen Foundation who died last October after a brief illness.

"Doyle would have loved to have been alive to see the new Hansen Scholarship Hall," Moyer said.

Listed alphabetically are those who have donated to the project thus far: Mark Bannister, Jim Barry, Don and Chris Bickle, Joseph and Jodi Boeckner, Tim and Mona Chapman, Daryl and Cindy Craft, Coleen Ellis, Ken Griffin and Marcia Bannister, Tom and Francine Hestermann, Van and Jeanne Hoisington, Denis and Sue Miller, Cy (Charles) Moyer, NetWork Kansas (Stephen Radley), Jim Nokes, Henry Schwaller IV, Alan and Phyllis Slipke, Jeff Seibel, Shaun Weaver and Peter and Pamela Werth.

Cutline: Numerous donors and supporters attended a news conference at FHSU, recognizing donors to the university's entrepreneurial program. Photo by Mitch Weber.