FHSU Institute for New Media Studies delivers virtual campus to Minnesota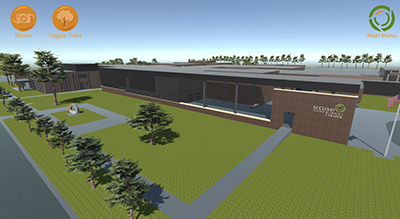 07/07/16 lds
HAYS, Kan. -- The Institute for New Media Studies at Fort Hays State University worked with St. Cloud, Minn., Technical Community College recently to create an interactive, virtual, reality-based navigation system for college campuses. The project -- a customized information and visualization system -- was created by Dr. Gordon Carlson, director of the institute, and two Fort Hays State students.

Waypoint software performs kiosk and informational functions for new students and guests without the need for proprietary hardware or licensing. Real-time walking directions can be visualized from any vantage point and sent to the user's mobile devices without the need for dedicated servers.

Navigation and orientation systems like this are typically expensive and require long-term commitments to a particular vendor.

The institute won the contract through a competitive bid and was able to deliver the project on time, under budget, and for a fraction of the cost of the next lowest bidder, said Carlson.

"This research collaboration shows the institute is developing products comparable to private industries and shows that we can perform the same services on campus with our faculty and students," he said.

"In a time when universities are competing for limited funding, it is good to know the institute can win resources that support student learning and research while making substantial contributions to the community."

Brittney Funk, Hays, a graduate student in communication studies, and Caleb Scholz, Crete, Neb., an undergraduate student in applied technology, assisted Carslon in developing the system. From drafting 3D models of buildings, traveling to St. Cloud to meet with stakeholders and designing images and graphics, the process took seven months to complete.

The project was submitted to and accepted by the League for Innovation in Community Colleges' STEMtech Conference, where academic institutions and industry partners gather each year to develop and showcase projects and future opportunities. Carlson will present the work to a national audience, alongside Joyce Helens, SCTCC president, and Vi Bergquist, CIO.

"The virtual campus project has so many potential uses, from wayfinding, to security training, to making prospective students familiar and comfortable with the layout of the campus," said Bergquist.

"It is very exciting for us to have this technology available for our faculty, staff and students," said Carlson.

Revenue generated from the contract also supports a project called Tiger Range, which seeks to build an immersive virtual reality model of FHSU.

The project was created through an intensive communication studies and issues course, along with an applications in communication course that saw FHSU juniors and seniors recreate campus buildings in industry-standard 3D software, work with the campus architect and develop communication strategies for implementing the software on a broader basis.

Tiger Range will provide the basis for a number of simulation, training and educational applications, such as safety instruction, new faculty orientation, and institutional marketing and advancement. The second phase of the project is aimed at serving college student retention programs and fundraising through partnerships with college foundations.

For more information, contact Carlson at 785-628-5876 or gscarlson@fhsu.edu. The website is www.fhsu.edu/newmedia.