FHSU alum honors her educational journey, supports alma mater's entrepreneurship program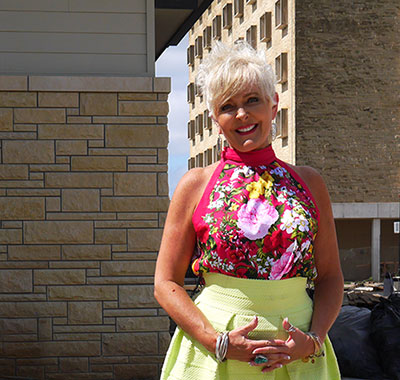 07/27/16
By Diane Gasper-O'Brien
University Relations and Marketing
HAYS, Kan. -- Everyone has a story about how Fort Hays State University became his or her destination of choice for post-secondary education.

For Coleen Ellis, it was her parents' love for the university that inspired her, although they barely ever set foot on campus.

"Growing up, I remember Mom and Dad always talking about how much they loved Hays and Fort Hays State," Ellis said. Her parents, Larry and Ann, worked at a hair salon and barbershop across from campus for four years in the early 1960s before moving to Pawnee County.

An FHSU graduate and successful entrepreneur, Ellis is excited about being a part of a budding entrepreneurship program at her alma mater.

Following the loss of a pet dog, Ellis started her own business, a pets-only funeral home, with the motto of "Honoring the Journey." Now, Ellis is looking forward to honoring her educational journey that began at Fort Hays State more than 30 years ago.

Ellis was one of numerous donors who were on campus this week for a recognition news conference for their contributions to, and support of, the entrepreneurship program.

Naming rights are available in the new Dane G. Hansen Scholarship Hall for those donating to the program, and Ellis will have one of the bedrooms named in honor of her pet dog, Mico, who died in 2003.

The hall became a possibility after a $3.5 million gift by the Dane G. Hansen Foundation in Logan. It will house up to 32 entrepreneurial-minded students and a resident assistant.

"This hall is a nationally unique living and learning environment dedicated to student entrepreneurs," said Dr. Mark Bannister, FHSU dean of the College of Business and Entrepreneurship. "It is a first of its kind."

The facility will include a community room, equipped with the latest teaching and learning technologies. Construction crews broke ground on the three-story, 12,775 square-foot building last October, and it is expected to be completed in less than a month for its first residents to move in.

Students with at least a sophomore classification, of any academic major, who have expressed a passion for entrepreneurship can apply to live in the hall. They have to meet certain requirements and fill out an application that is reviewed by an application committee. More information on how to apply for residence in the scholarship hall can be found at www.fhsu.edu/scholarshiphall.

It was the love of her dog that spurred Ellis to start her own business, and she opened a pets-only funeral home in Carmel, Ind., in 2004, the first of its kind in the country.

Ellis now has six pet loss centers in Texas and Florida and expects to have three more open by the end of the year. Ellis and her business partner, Nick Padlo, are backed by private equity and individual investor. More about those centers can be found online at thepetlosscenter.com.

Ellis met some FHSU representatives at an alumni function last spring in Texas, where she now lives in a suburb of Fort Worth. They told Ellis about Hansen Hall and FHSU's entrepreneurship program. A Fort Hays State Tiger through and through, Ellis immediately jumped on board with the idea of supporting any kind of entrepreneurship project at FHSU.

"This is an incredible program, one that I'm really excited about being a part of," Ellis said. "When I heard about it, I definitely wanted to be a donor and a coach and a mentor for these students. I know how hard it is to be an entrepreneur."

FHSU offers a unique program that enables students to develop an entrepreneurial mindset and competencies that are necessary to compete in today's global economy.

"The marketing area was really good back then; it allowed me to tap into the creative part of business," Ellis said. "This program now is incredible."

Ellis grew up in Rozel and graduated from Pawnee Heights High School in 1983, then came to Fort Hays State to major in accounting.

"I had a choice where I wanted to go to college and was blessed with a lot of scholarship offers," she said. "But it was never really a choice. Mom and Dad always loved Fort Hays State. I always wanted to go to Fort Hays."

So Ellis headed north to Hays, and her two younger brothers, Chris and Curtis, followed in her footsteps and also attended FHSU. Ellis said she and her siblings all developed a strong foundation of business education at Fort Hays State. Like their older sister, both of Ellis' brothers also started their own businesses.

"Our goal with the entrepreneurship program is to attract other students like Coleen Ellis and to help them launch their dreams," Bannister said. "We are thrilled that she is paying forward to others the benefits she received at Fort Hays State."