FHSU professor combines his passion for history, movies in classroom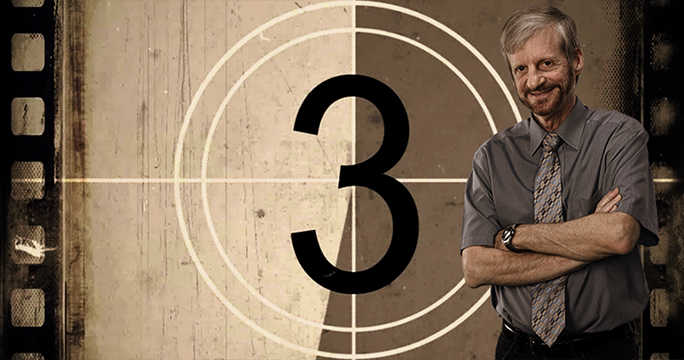 07/05/16
By Randy Gonzales
University Relations and Marketing
HAYS, Kan. -- Dr. David Goodlett uses his passion for movies to help him when he teaches about his other passion -- history.

Goodlett, associate professor of history, enters his 20th year teaching at Fort Hays State University this fall. He has found that movies are something his students can relate to when he is trying to make a point in class.

"I think some students can relate to (movies) if they have no other image of what you're talking about," Goodlett said. "I think I probably have been doing it as long as I've been teaching.

"It isn't just movies," he added. "Sometimes it's songs; anything I can think of that connects to students and what they've experienced, seen in life."

Films can transport Goodlett's students to another time and place, which is useful in a history course.

"They may not have been to another country but they might have seen a movie set in another country," Goodlett said.

Goodlett wants his students to understand that what's on the screen is not necessarily historically accurate. Case in point is the movie, "300." The movie is about a famous last stand of 300 Spartans against a force of at least 100,000 Persians in the mountain pass of Thermopylae.

"That seems to be the film people of normal college age have seen more than any other film," Goodlett said. "It's definitely based on a historical subject, but the Spartans were not, in fact, at the Battle of Thermopylae wearing modified speedos. It's a great look, but they were actually wearing armor because they didn't want to die any faster than necessary.

"At the same time, that doesn't have anything to do with analyzing it as a film," he said, adding the Persians in fact were told by a farmer how to get around the paths. "That's how they were able to finally corral the Spartans into a location where they could surround them."

Goodlett developed a love for movies as a young child growing up in southwest Ohio. He watched films both in the movie theater and on television. He still remembers as a youngster going to see an Elvis Presley movie and how the audience erupted upon seeing his gyrations on screen.

"I loved stories, stories that entertained me and took me places -- not necessarily far away -- but took me someplace that I hadn't imagined being before," he said. "I got attached, and attracted, to that dynamic very quickly."

Goodlett said John Wayne quickly became one of his favorite actors. Other favorites include Gary Cooper, Cary Grant and Fred Astaire.

"I wanted to be all of them," Goodlett said. "I also wanted to be the center fielder for the Cincinnati Reds."

Goodlett's favorite player growing up was Reds outfielder Frank Robinson, who was traded to the Baltimore Orioles in 1966. Robinson promptly led the team to a World Series title and was named league MVP.

"I haven't gotten over the heartbreak yet," Goodlett said.

One of Goodlett's favorite sports movies is one he first saw as a child, "It Happens Every Spring," which is about a scientist who discovers a formula that makes a baseball that repels wood. Others sports films he likes include "Field of Dreams," "Horse Feathers" and "Hoosiers." Goodlett said "Horse Feathers" isn't normally thought of as a sports movie. He added that "Hoosiers" speaks to the basketball-mad culture that is Indiana high school basketball.

One of Goodlett's favorite recent movies is an Iranian film, "A Separation." It details the struggle of a family where the wife wants to leave Iran because of the conditions living there. She wants to go with her husband and their daughter to live in Paris. The husband feels compelled to stay, in part because his father has Alzheimer's disease.

"It's an absolutely superb study of human beings dealing with severe stress and trying as human beings to function," Goodlett said. "I thought it was just a great movie."

Goodlett, who said he is "a fan of most genres," has "a solid collection" of movies, some he has bought on DVD and some he has recorded on television. "Turner Classic Movies is a godsend," he said.

Goodlett likes to dig deep into movies, delve into their underlying themes. "It's kind of a combination of I love films and I love history," he said.

Goodlett doesn't mind if a film is historically inaccurate if it doesn't try to pretend to be historical in nature. He uses the film "National Treasure" as an example; it's a good popcorn movie. However, a movie such as "JFK" does cause him some irritation.

"When you go see 'JFK,' you've got a guy who's trying to tell you something like this happened," Goodlett said. "It's a brilliant film. It's a lie, but it's a brilliant film."

Goodlett said some years back there was discussion about adding a film history course at FHSU. Count him in if such a course is ever taught.

"I do very much want to teach film history," Goodlett said.