FHSU student tries her Hand in politics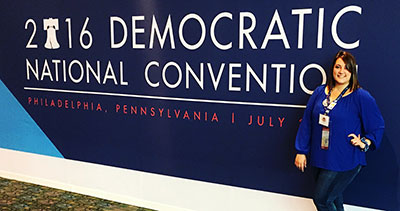 07/29/16
By Randy Gonzales
University Relations and Marketing
HAYS, Kan. -- Being a Democrat in a Republican state can be frustrating, but it also can be a learning experience, said Anna Hand, an Ellsworth senior majoring in political science at Fort Hays State University.

"Of course it's frustrating, because I have my ideas of the way our government needs to be working," said Hand, who was a Hillary Clinton delegate from Kansas at this week's Democratic National Convention in Philadelphia. "I think being in Kansas has also taught me that we don't always get our way. We have to compromise. We have to work together."

Hand left Philadelphia Friday morning to go back home to Kansas tired, but exhilarated at the same time. It was her first time at a national convention.

"Lots of fun, lots of entertainment, not very much sleep," Hand said. "I'm completely exhausted right now but it was a completely unforgettable experience."

Hand campaigned for Clinton this winter and spring, spending her weekends in Iowa canvassing voters and going to school at FHSU during the week. She met Bill Clinton and shook Hillary Clinton's hand. Hand also met famous Clinton surrogates such as actress Jamie Lee Curtis on the campaign trail.

"I learned a lot why Iowa is the first state to (have a primary), why they're so important," Hand said.

At the convention, Hand was a deputy whip captain for the Clinton campaign. She was usually on the floor from 1 p.m. until the last speaker at 11 p.m. After leaving the convention hall, she attended a reception each night.

Then there were the speeches. One Democratic leader after another. Michelle Obama and Bernie Sanders one night, Bill Clinton the next. President Barack Obama and Vice-President Joe Biden with stemwinders to fire up the delegates. Hillary Clinton's historic acceptance speech.

"Even if I could whittle it down to my favorite speech every day, it would be difficult," Hand said. "All the speakers were fantastic."

But if she had to choose one, Hand said she would not soon forget when the mother and father of a Muslim-American soldier killed in the Iraq war took the podium, denouncing Republican presidential candidate Donald Trump.

"The reason I liked it is it really reminded us what's at stake in this election," Hand said. "They reminded us why we need to go out and vote and why Hillary Clinton needs to be the next president."

Hand paused before giving her assessment of Trump.

"I feel that a Trump presidency would not be good for our country," she said. "That's as diplomatic as I can be."

Hand wasn't sure when she decided to major in political science. She likes to tell people she got started in the third grade, when she marched in a parade for hometown state representative Josh Svaty.

"I can't pinpoint a day I decided to go into political science," Hand said. "When I did, I got really involved. I found if you can be around something 24/7 and not get sick of it you're probably on the right path."

Hand, 22, is not sure of her career path, but she does have an idea.

"I would love to have a career in politics," Hand said. "Running campaigns is definitely something I can see myself doing. I am also interested in grass root organizing, and then there's my political action committee work, fundraising."

Whatever Hand does next week or next year, she can always look back on these four days in Philadelphia. She can look back at a convention which nominated the first female candidate for president, a candidate Hand said believes in working together to get things done.

"I think that's why Hillary Clinton resonates so clearly with me," Hand said. "She recognizes that not one person can have the solution. You need people from all different backgrounds at the table."

Including, perhaps, someday someone from Ellsworth, Kansas.