From FHSU summer camp to FHSU classroom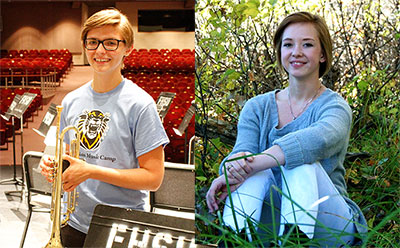 07/14/16
By Randy Gonzales
University Relations and Marketing
HAYS, Kan. - Both Rhiannon Mullins and Cheyenne Rowe planned to participate in the High Plains Music Camp. It would have been their fifth straight year attending Fort Hays State University's summer camp.

Mullins is at the camp this week. Rowe, however, recently had a relapse of mononucleosis she first contracted her sophomore year in high school. Now, instead of being a vocal student this week she is at home in Dighton, resting. Rowe said she misses being at the camp.

"It's always great to hear other performances from professionals and students as well," Rowe said.

Mullins, from Hoxie, is busy this week with performances on her trumpet. She was practicing for her honor recital Wednesday over lunch hour before that evening's performance.

"I'm a bit nervous," said Mullins, who is also in honor band and honor jazz band at camp.

Mullins' father, Mike, played the trumpet in high school.

"I started playing on my dad's trumpet when I was 2 or 3," Mullins said. "Fourth or fifth grade, when we were introduced to music, that's when I found this is what I really want to do."

Rowe, a mezzo-soprano, thinks she might have gotten her singing ability from her father, Troy.

"My dad's a very talented singer, but he never really did anything with it," Mullins said. "It kind of passed on."

Music helped Rowe chart her career path while she was in high school. She attended Garden City High School as a senior, and was active in music there after attending high school in Dighton her first three years.

"When I got hurt playing basketball my sophomore year, I really relied on music to pull me out of a funk," Rowe said.

After that, Rowe decided to concentrate on music. Now, despite missing FHSU's summer music camp this year, she still will be able to concentrate on music this fall at FHSU as part of the incoming freshman class. Rowe, who will major in music education and performance, wants to recuperate now so she is ready to move in to her residence hall next month.

"I'm really excited to be going to Fort Hays State," Rowe said. "I met (FHSU instructors at summer camp) before my freshman year, and everyone there is really welcoming."

Rowe shares the same enthusiasm for FHSU's summer music camp, now in its 69th year.

"It's been really positive," Rowe said. "It's helped me grow confidence as an individual and also as a performer. The faculty is really great and willing to work with everyone. Everyone's very passionate."

Mullins - who, like Rowe, will be a freshman at Fort Hays State this fall, majoring in music education and performance -- agreed the enthusiasm of the FHSU faculty shows through at the camp.

"They're passionate about it," Mullins said. "They want to keep music alive, and they want to help kids stay in music programs. They offer camps like this to keep it going."

After five summers at FHSU's music camp, the school feels special, Mullins said.

"It feels like home," she said. "It's a great big family."
Cutline: Rhiannon Mullins (left) and Cheyenne Rowe (right). Mullins photo by Paige Thompson. Rowe photo submitted.