Ivanka trumps everything for FHSU student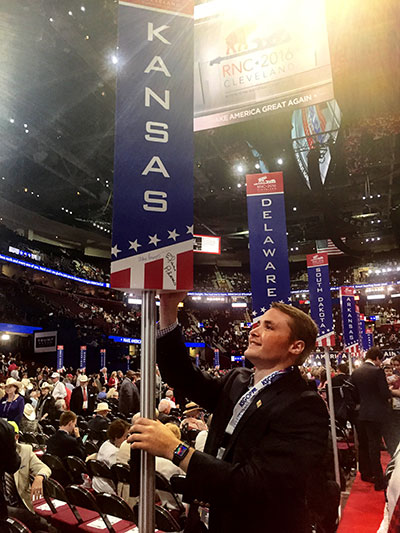 07/25/16
By Randy Gonzales
University Relations and Marketing
HAYS, Kan. -- It was a whirlwind week for Kansas' youngest representative at the Republican National Convention.

Tanner Tempel, a Garden City senior agriculture business major at Fort Hays State University, was an alternate delegate for Texas Sen. Ted Cruz. One of the highlights for the 22-year-old Tempel was taking a selfie with Ivanka Trump, daughter of Republican presidential nominee Donald Trump. That picture garnered lots of attention.

"As you can imagine, there's an absolute wall of Secret Service," surrounding Ivanka, Tempel said. "I wanted a picture with her, so I yelled out to her, 'Hi, beautiful.' She started smiling, and she moved her Secret Service security for me -- that's how I got that (picture)."

CNN took a photo of Tempel taking his selfie with Ivanka in the background and posted it on the news organization's Instagram account.

"People kept sending it to me," Tempel said. "I've had a lot of people at the convention come up to me. I showed it to one of the CNN reporters and said, 'You guys kind of made me a southwest Kansas celebrity.' "

Pretty heady stuff for a college student who only just recently decided to take a dive into politics in a serious way. Tempel saw a story online about young people not getting involved with politics,
so he decided to drive to Salina in April for the Big First district meeting where convention delegates were chosen.

While others wrote speeches and had lobbyists on their behalf in an attempt to become delegates, Tempel went another way. "I just spoke from the heart," he said.

Not only did Tempel go to Cleveland last week as an alternate delegate, he also was a blogger for the Hutchinson News. His dad was given a guest pass and made the trip with his son. Father and son met everyone from former House Speaker Newt Gingrich to former TV anchor Katie Couric.

"We met everyone we wanted to meet except for Donald Trump himself," Tempel said.

But he did see Ivanka Trump. Tempel was impressed by the entire Trump family.

"His kids just blew my mind," Tempel said. "They're so impressive. You can tell the way they were raised."

"If anyone wins the election for him, it's definitely going to be his kids."

Even though Cruz was his candidate during the primaries, Tempel is now an unabashed Trump supporter.

"In the very beginning, I was on the Ted Cruz bandwagon," Tempel said. "But let me tell you, Donald Trump was very impressive. It's not the buildings or the empire he built, the best things he built were his kids -- that's the best thing about him."

Trump's acceptance speech was well-received by the delegates.

"It was absolutely electrifying, a once-in-a-lifetime experience," Tempel said. "The people were on their seats. He did a really good job. He spoke from the heart."

Tempel said more millennials need to get involved in the political process. He said other states' representatives were pleasantly surprised to see a younger delegate at the convention.

"I have a passion for it," Tempel said. "More than anything, we need young people involved in politics."

Tempel knows of at least one other person his age now engaged with this election. His younger brother, Greyson, is a Trump backer.

"Donald Trump has definitely appealed to people who have never been involved in politics before," Tempel said.

Tempel got his foot in the door by being elected a convention alternate delegate in April. This summer -- thanks to being at that selection meeting -- Tempel landed an internship with the Kansas Grain and Feed Association in Topeka. Tempel was also asked to run for the state Legislature.

"This year, I declined," Tempel said. "I was getting my feet wet a little bit, so I'm not going to run yet."

Tempel took some political science classes as an elective at Fort Hays State. He said Dr. Chapman Rackaway -- who was a professor of political science at the time and is now interim dean of the Graduate School -- made an impact.

"Chapman Rackaway has been a great influence on me," Tempel said. "He has a passion for it, too."

"One of the things that I absolutely love about western Kansas and our students, is they're showing from a very early age they are capable of leadership roles while still a student, so they can jump straight into high-level leadership roles," Rackaway said. "Tanner may be the next one in line there."

"Fort Hays State, I brag about them so much down here," Tempel said. "I couldn't be more proud to be a Tiger."

Cutline: (Photo 1) Garden City senior Tanner Tempel was an alternate delegate at the Republican National Convention. Courtesy photo. (Photo 2) CNN captured Tempel's selfie with Ivanka Trump. Photo by CNN.