Largest summer camp brings young musicians and accomplished guest artists to Fort Hays State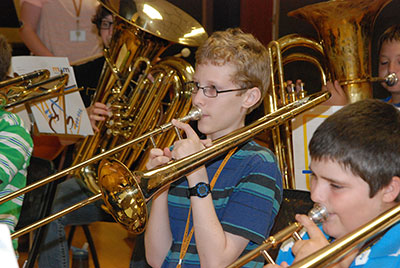 07/07/16
By Diane Gasper-O'Brien
University Relations and Marketing
HAYS, Kan. -- Dr. Ivalah Allen is looking forward to the 70th anniversary of Fort Hays State University's High Plains Music Camp, the largest of FHSU's summer camps.

"We're already gearing up for next year," said Allen, in her fifth year as camp director this year. "We're making plans for some significant clinicians but also some fun things around the camp, too."

That momentous occasion is set for 2017. But first things first. Allen, associate professor of music at FHSU, and her camp staff are set to welcome nearly 300 students to campus for the 69th annual week-long event.

The students are scheduled to converge on campus Sunday morning, July 10, and will rehearse and attend classes all week in preparation for Saturday's concert finale. Students in vocal, band and orchestra will have a minimum of four rehearsals a day, in addition to selected classes.

Most of this year's musicians are coming from all areas of the state, but some are from several other states as well, including as far away as New York.

While the students will keep busy all day practicing, there will be numerous concerts throughout the evenings, featuring FHSU faculty and staff and guest faculty. All are free and open to the public.

Allen Vizzutti -- an international trumpeter/jazz clinician -- will perform as well, at 7 p.m. Monday at Beach/Schmidt Performing Arts Center. A complete concert schedule and biographies on Vizzutti and other guest faculty can be found online at www.fhsu.edu/musiccamp.

"We encourage everyone to attend the concerts," Allen said. "We have some great guest clinicians this year and high-quality staff performances scheduled."

The Wednesday night stage at Beach/Schmidt Performing Arts Center is reserved for the student honor recital, where students were chosen from recordings and audition material sent to the FHSU music faculty last spring.

There will be different kinds of concerts from which to choose Friday evening. Those attending the faculty string chamber concert will get a treat for coming early. The concert is set for 6:30 p.m in Felten-Start Theatre in Malloy Hall. Just before that, at 6 p.m., select numbers will be performed from the musical, "The King and I."

Meanwhile, jazz concerts -- both student and faculty -- will be going on at the same time in Beach/Schmidt, with students performing at 6:30 and faculty at 7:30. A student talent show will complete the night's events, starting at 8:45 in the Fort Hays Ballroom of the Memorial Union.

The week will conclude Saturday with a series of student concerts beginning at 9 a.m. and continuing through the afternoon.

In addition to a multi-faceted learning experience, Allen said the camp gives youngsters a chance to see the FHSU campus firsthand. Many then decide to make Fort Hays State their destination of choice when it comes to selecting a college to attend.

"We get a large number of students who come back to Fort Hays State," Allen said. "And they're not all necessarily music majors. They represent every department on campus."