Rome's love of music leads him to FHSU camp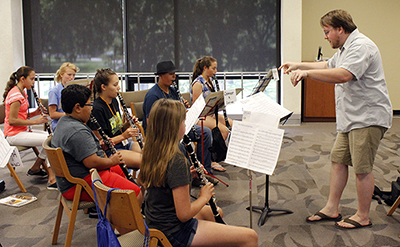 07/12/16
By Randy Gonzales
University Relations and Marketing
HAYS, Kan. -- Matt Rome is unsure of why he chose music as a youngster. Maybe it chose him. And there he was Monday, an instructor for the High Plains Music Camp at Fort Hays State University, teaching a group of middle school clarinet players.

For Rome -- who also attended the camp after his senior year in high school -- it all started for him in the sixth grade, when he played clarinet in the band at Kennedy Middle School.

"It was always my favorite class," Rome said. "It was the highlight of the day."

But why the clarinet? Good question.

"I don't really know; it kind of seemed the thing to do," Rome said. "I picked it in middle school and have loved it since."

Rome's younger sister, Monica, is also musically talented; she is a senior vocal major at Fort Hays State. Yet their parents weren't particularly musical.

"Kind of weird how that happened," Rome said. "Really, it was kind of out of the blue. My dad's a mechanic; my mom kind of job-hopped. Neither of them were overly musically inclined."

Rome went on to play in the band at Hays High School and majored in music education at FHSU, graduating in 2015. Before he even walked across the stage at commencement, Rome knew he had a job lined up -- as band director at his high school alma mater. Rome was hired by Hays High to replace legendary band director Craig Manteuffel, who -- after 19 years at the school -- left in 2015 for a position with the Kansas State High School Activities Association.

No pressure there, replacing his mentor who was beloved by his students.

"I would say it was terrifying," Rome said with a laugh. "He was such a huge mentor for me. He was -- no pun intended -- instrumental in my development."

Manteuffel encouraged Rome to learn to play the saxophone, which led to Rome playing jazz. Manteuffel also encouraged Rome to try writing music, and Rome has had a few pieces performed by bands at Fort Hays State.

"He was always there to encourage me to try something new," Rome said.

Rome said the entire music faculty at FHSU has helped him along the way -- "it's just a phenomenal music staff" -- adding his clarinet instructor, Dr. Kristin Pisano, associate professor of music and theatre, has been especially supportive.

"She pushed me to get better," Rome said. "I learned a lot."

Rome realized as a teenager that he could go places with his love for music.

"I just remember I always had fun playing in band," he said. "In high school I started to realize there's a career there. If I can get paid to do something I love, why not?"

Rome liked his one summer as a student at FHSU's summer music camp.

"It was a good experience," he said. "It was good to be around people from all over Kansas. You just don't get that very often."

Rome went on to be a camp counselor for two years and is now enjoying his third summer as an instructor in the camp's 69th year.

"Just watching the kids grow, that's the most fun," Rome said. "Watching those little 'ah hah' moments."

Rome said FHSU's High Plains Music Camp plays an important role, reaching out to so many people and providing quality instruction.

"It's huge, especially here in western Kansas," Rome said. "There's not a lot offered in this scale for the price paid. It's an incredible deal that the students are getting."

"This camp has always amazed me in that it brings in some of the top names in the music world," he added. "This year we have arguably the best trumpet player in the world and one of the finest conductors alive today -- and they're in Hays, America. How crazy is that?"

When budgets are tightened the arts are often looked at as a place to cut back. Rome has a ready response for those with the axe. He asks people what's the first thing they do when they get in a car. They turn on the radio and listen to music.

"Not too many people sit in silence," Rome said. "The arts are what make us human. To neglect that is a huge oversight. It's a huge part of who we are as people."

Rome likes to tell the tale of being one of the directors of the Hays city band. Its members were comprised of everyone from middle schoolers to retired people.

"That's why I push music," Rome said. "It's something you can do your whole life. You don't have to do it professionally. It's always there."
Cutline: Rome instructs a class at High Plains Music Camp. Photo by Paige Thompson.