SLP research article accepted for publication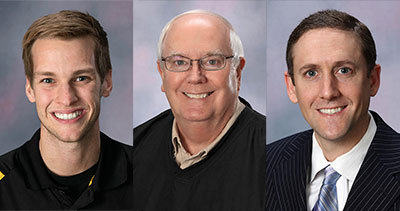 07/18/16 lds
HAYS, Kan. -- An article written by Garrett Nathan, an Omaha, Neb., graduate student in the Department of Communication Sciences and Disorders at Fort Hays State University, has been accepted for publication in a national, peer-reviewed journal.

"Sound Intensity Levels of Volume Settings on Cardiovascular Entertainment Systems in a University Wellness Center," pointing out risks of hearing loss, will appear in the fall 2016 issue of the Recreational Sports Journal.

"As a student researcher and Wellness Center patron, I had multiple goals for this study," said Nathan. "As a researcher, I wanted to develop my own personal research agenda, gaining knowledge and experience in the research process. As a patron, I wanted to investigate the sound intensity levels cardiovascular entertainment systems produced to advocate for safe-listening practices, as well as educate fellow patrons."

Nathan developed his interest in the field of speech-language pathology over the nine years of speech therapy he received as a child.

"As a child, I spent hours in therapy working on multiple articulation, language and literacy goals to keep up with my peers," said Nathan. "While deciding on a career, I confidently pursued SLP to assist individuals who have speech/language deficits."

Dr. Fred Britten, professor of communication sciences and disorders, was a collaborating author and also mentored Nathan during the nine-month process.

"We decided to submit this publication to a journal in the health and wellness area because of the limited information present in that area," said Britten. "We felt strongly about heightening the awareness of noise-induced hearing loss among professionals in the health and wellness field."

Dr. Jeff Burnett, professor of health and human performance, was also a collaborating author.

Nathan will complete his degree in speech-language pathology in July 2016. This research project was in addition to other research requirements.

"This project was something above and beyond Nathan's requirements for graduation," said Britten. "He wanted to be involved and took the lead. This is something that not every student will take on."

"I am humbled and honored for the opportunity to publish in a peer-reviewed journal publication this early in my professional career," said Nathan. "I highly recommend students of all levels to pursue experiences in research to better their field of study and foster their own professional growth."
Cutline: Left to right, Garrett Nathan, Dr. Fred Britten and Dr. Jeff Burnett