Students learn about global education in England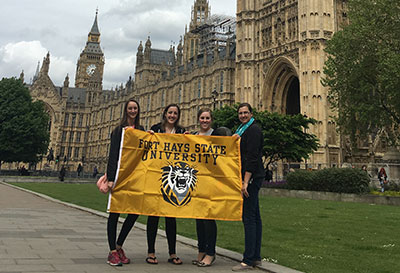 07/25/16 sds
Dr. Elodie Jones, assistant professor of teacher education at Fort Hays State University, recently took four students to England to visit Sheffield Hallam University, Sheffield.

Students met with county council members to discuss current issues in education and toured London, Peak District National Park and the Derbyshire County countryside.

"Prior to this trip, I really had no experience with global education," said Hannah Frazier, Moundridge sophomore. "I am so thankful for the exposure."

"It was a phenomenal learning experience," she said.

Three other students joined Frazier on the trip: Becca Gorges, Wichita senior; Stephanie Myers, Firestone, Colo., junior; Kaylee Mosher, Concordia senior.

All students are majoring in elementary education.

Jones hopes to establish an undergraduate teacher candidate exchange with Sheffield Hallam University for the spring 2017 semester.

Cutline: (Left to right) Rebecca Gorges, Stephanie Myers, Hannah Frazer, Kaylee Mosher, FHSU Teacher Education candidates outside Parliament in London.