FHSU professor at Sias to hit 80-country milestone during this summer's travel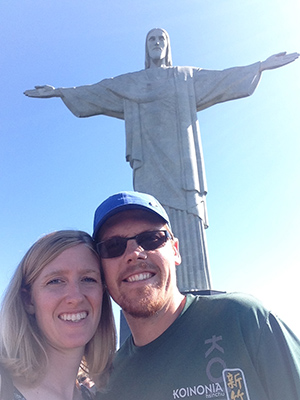 08/04/16
By Nathan Shepherd
University Relations and Marketing
HAYS, Kan. -- Business instructors in the academic year, world travelers by summer vacation, Dr. Brian Swanson and his wife, Mary, make the most of their academic careers as international business educators for Fort Hays State University. The couple exchanged their summer offices for passports to embark on an eight-week quest spanning more than eight countries.

By summers end, Swanson hopes to visit his 80th country.

Swanson, an associate professor of management for FHSU, teaches law and business at FHSU's partner institution Sias International University in Xinzheng, China.

"I am very passionate about both molding young minds and engaging foreign cultures, and I feel blessed to have a career in which I can do both on a daily basis," he said.

Swanson said his interest in international education peaked after a semester of studying abroad at the University of Cambridge in Cambridge, England.

"The experience completely changed my perspective on life," said Swanson, "and I began to actively seek out opportunities to experience new cultures."

The couple first became friends in 2004 during their undergraduate studies at the University of California, Berkeley. Mary received her B.S. in molecular toxicology and began working in cancer research. Swanson received his B.A. in political science before earning his Juris Doctorate at the University of California, San Francisco, in 2009.

Shortly after their marriage, Swanson opted to stop practicing law and began teaching in China. Mary Swanson, who completed her MBA through FHSU, is a teaching assistant who plans to be a professor of business.

Swanson often has opportunities to speak at other universities. "I've truly enjoyed learning more about countries through their students. The inquisitiveness of Nepalese law students or the optimism of Kyrgyzstanian female students about shifting cultural attitudes about gender roles."

During their current trip though the Guyanas, Galapagos, Colombia, Brazil and Peru, the Swansons are not dependent on the services of hotels and overpriced tourist attractions. Instead, they prefer a practice known as "couch surfing," where they stay with native hosts.

"It's not the most luxurious atmosphere for those who want a posh, relaxing getaway, but couchsurfing.org has been a great way for us to make friends in cities," said Brian Swanson. "A spectacular side effect of couch surfing is it's free. Over the past few years, my average budget is less than $20 per day."

Couch surfing has other benefits as well. It speeds up the adjustment to a foreign culture, and suits Swanson's ultimate goal of being able to "live like a local."

"Investing your money materialistically will always be temporary, but investing in experiences and people will leave you with lifelong lessons and friends," he said. "Seek out new experiences and learn as much as you can while you have the opportunity."

Swanson says they plan to remain in China and "continue to improve upon the business program," but for the time being, they enjoy their remaining four weeks as they travel from Rio De Janeiro to Machu Picchu and the Amazon jungle.

In the future, Swanson said, he intends "to lead some excursions with FHSU students interested in experiencing third-world cultures in a more authentic and life-transformative way."

Being exposed to the sceneries, attractions, cultures and wildlife, Swanson said, "guarantees the attendees will have fun, life changing experiences."