FHSU's Dr. Smith speaks at Leadership Kansas session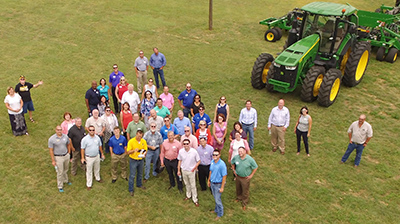 08/08/16 sds
HAYS, Kan. -- Fort Hays State University was well represented at the recent Leadership Kansas session at the Kansas State University Agricultural Research Center in Hays.

Dr. Craig Smith, assistant professor of agriculture, was a panelist for the discussion on the future of agriculture. Smith spoke on the use of drones in agriculture and demonstrated how to fly drones.

The Leadership Kansas class of 2016 includes Dr. Joy Hatch, vice president for technology and professor of informatics.

FHSU alumni and local farmer Matt Grabbe was also on the panel, focusing on the cost of farming. Grabbe explained his choice to be an agriculture producer and stay in Kansas after graduating.

Dr. Brittany Howell, associate professor of agriculture, organized and moderated the panel. Henry Schwaller, instructor of management, served as session leader.
Cutline: Dr. Craig Smith (center, in yellow) demonstrates the use of drones in agriculture with the Leadership Kansas class of 2016 and takes a picture of the class using the drone.