FHSU seeks designation as a Voter Friendly Campus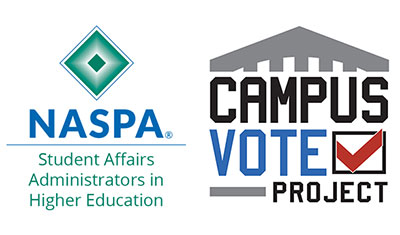 08/24/16 nds
HAYS, Kan. -- Fort Hays State University has been selected to participate in the Voter Friendly Campus designation process for the 2016-2017 academic year.

Voter Friendly is sponsored by NASPA-Student Affairs Administration in Higher Education and the Campus Vote Project.

FHSU is among nearly 100 other campuses, representing 1.5 million students who, by joining, have made a strong statement about the civic mission of higher education, to prepare students to be engaged participants of democracy.

Members of Fort Hays State University Voter Friendly Campus Designation Task Force are:
Dr. Curt Brungardt, director of the Center for Civic Leadership.
Dr. Paul Faber, dean of the College of Arts, Humanities and Social Sciences.
Brett Bruner, director of transition and student conduct.
DeBra Prideaux, executive director of alumni and governmental relations.
Vivian Agnew, student government association vice president.
Megan Garcia, American democracy project student co-director.
John Gettemeyer, graduate assistant for extended orientation and transition Initiatives.
Whitney Swender, project coordinator and graduate teaching assistant in the Center for Civic Leadership.
These representatives will develop strategic plans to foster a culture of democratic engagement among students and to help overcome barriers of participation in the political process.

Participants will be evaluated from early 2017 through December 2018.