Fort Hays State digital media students take BEA War on the Floor title at national conference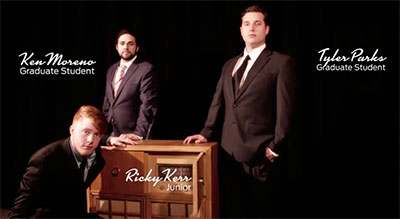 08/24/16 te/kb
NOTE: Team members tell their story of War on the Floor in a feature on the FHSU website at www.fhsu.edu/news/War-on-the-Floor-was-a-rush--from-start-to-finish/.

HAYS, Kan. -- A team of three students from Fort Hays State University has been awarded the victory in the 2016 national Broadcast Education Association's War on the Floor competition.

The team of Ken Moreno, Charlotte, N.C., graduate student, Tyler Parks, Elkhart graduate student, and Richard Kerr, Wichita senior, competed against two other schools selected after the BEA conducted a national screening. The winning work -- a social media campaign, a one- to two-minute promotional piece and a long-form video -- was based on the National Association of Broadcasters convention in April in Las Vegas.

The winner was announced this month after an evaluation over the summer. The production pieces were turned in May 31. The team was the first of the eventual three teams to be selected. The announcement of their selection came in February.

"We were pretty excited," said Moreno. The trip to Las Vegas, and the conference from which the competition pieces would be built, would be in April, about two months away, and they went to work immediately.

"Me personally, I'm a very organized kind of person," said Moreno. "I didn't want to be scrambling around in Las Vegas."

That is also the philosophy of the department. "In the Informatics Department, it's really about getting your plan together so that your production is a lot smoother," he said.

Moreno, who has a B.S. in information networking and telecommunications from FHSU, expects to graduate in December with an MLS with an emphasis in digital cinema production.

"We have a lot of talented individuals who aren't in a traditional broadcast media program," said Kerr, who is completing a B.S. in informatics with an emphasis in media studies. "We do a lot of things outside of the box. If you look to the initial video we made to get into the contest to what we created in Vegas and afterward, it is very creative, and that is what sets us apart from other programs."

"I want to thank my professors Ron Rohlf and Melissa Hunsicker Walburn as well as Tyler and Ken and all of my classmates and peers for helping me grow in the craft of digital media," said Kerr.

Parks also praised the larger university and Hays community. "Because the community was behind us, we were able to beat universities that were bigger and have a lot more money than we do."

"I think that's what makes Fort Hays State great," he said. "Everybody's in your corner and everybody's got your back."

He also had special praise for Michelle Weigel, administration assistant in the Informatics Department. In addition to the administrative functions of planning and making arrangements, said Parks, "She was also a valuable contributor to our social media campaign."

Parks, like Moreno, is seeking an MLS with an emphasis in digital cinema production and is also planning on a December graduation. He has a BFA in graphic design and a B.A. in political science with a minor in journalism, all from Fort Hays State.

The 2015-2016 year "was a blockbuster year for FHSU's digital media production and journalism students," said Rohlf, assistant professor of informatics.

Even before the War on the Floor win against Elon University, Elon, N.C., and Clemson University, Clemson, S.C., FHSU media studies students had a banner year going, said Rohlf, with 10 first-place and two second-place Kansas Association of Broadcasters awards. "We couldn't be more proud of our students," he said.

"The opportunity to network with the industry leaders at NAB and to see the upcoming technology that will hit markets is an incredible experience that we remain committed to providing to our students," said Hunsicker Walburn, chair and assistant professor of informatics.

"The War on the Floor is a national competition of huge magnitude," said Dr. Mark Bannister, dean of the College of Business and Entrepreneurship. Media studies at FHSU are housed in the Department of Informatics within the College of Business and Entrepreneurship.

"This is a national championship competing against all levels of universities," said Bannister.

The social media campaign and the 15- to 20-minute video were about the conference itself, and the one- to two-minute ad was for Glyph Production technologies, the competition sponsor.

The videos are available here:
• Entry video: https://vimeo.com/153726007
• Sponsor commercial: https://vimeo.com/163598088
• Long form video on the conference: https://vimeo.com/179813840

With the win, the FHSU team receives a Smart Pass registration for the 2017 NAB conference, which includes all conferences, workshops, super sessions and the floor show, a package valued at $1,499, for next year's conference.

The team's travel and an additional night of lodging was sponsored by the Leo and Dorothy Lake Fund of Excellence.