Fort Hays State the right choice for SGA president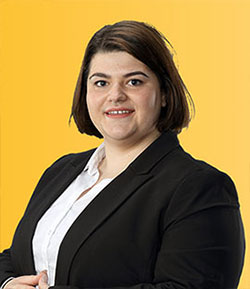 08/25/16
By Randy Gonzales
University Relations and Marketing
HAYS, Kan. -- Fort Hays State University turned out to be the destination of choice for Emily Brandt.

Brandt, Beloit junior, has found a home at Fort Hays State. She was elected Student Government Association president last spring, and officially took office June 1 with her running mate, Vivian Agnew, Wichita senior.

In the grand scheme of things, Brandt should be enjoying the tree-filled, cooler climes of Oregon right about now. Brandt was planning on attending University of Oregon in Eugene, Ore., after graduating from high school, but one of her major scholarships fell through. No longer able to afford college in the Pacific Northwest, Brandt scrambled to find a Kansas school that would accept her just a few weeks before the first day of classes. FHSU was that school.

"It was all very last-minute," Brandt said. "It was very rushed."

Brandt's plan was to just get into a school for that first semester, then decide whether she was going to stay or transfer. She stayed.

"It's worked out great," Brandt said. "No regrets."

Brandt, who will be a first-generation college graduate in her family, came to realize a student doesn't need to go to a bigger university to find a quality college education -- and a quality college experience.

"I just had this mentality I had to get out, I needed to get away. I need to do things. It never occurred to me in high school I could do big things right here," Brandt said. "Your undergraduate experience is whatever you make it. I didn't need to go somewhere else for a way to have a great undergraduate experience."

Brandt, who was active in student council in high school, immediately became involved with student government at FHSU. She became fast friends with Agnew, who was already involved with SGA and lived on the same floor as Brandt in Wiest Hall, where they both served on hall council. In the spring semester of Brandt's freshman year she served the first of two semesters as an SGA senator, then later became SGA's legislative affairs director.

As SGA president, Brandt has a to-do list for this school year. On that list is a virtual college senate, which will have elections in October. Brandt believes it will be the first of its kind in the country.

"We have such an enormous amount of students who are going who are going to Fort Hays State virtually," Brandt said. "We want to make sure their voices are being heard."

Brandt said she also wants to focus on civic engagement.

"We think we have a very civic-minded student population," Brandt said. "We want to make sure we're expanding it. We want them to know civic engagement is not just registering to vote. It's going out and volunteering in your community."

Brandt also hoped to have a polling place on the FHSU campus for November's general election but that will not be possible because it is too late to establish one.

Also on Brandt's agenda is infusing a greater sense of school spirit. She also wants SGA to be more accessible to students' needs. The SGA office is located in the basement of the Memorial Union.

"We want students to know we are more than just the place you get money from" through student allocations, Brandt said. "People are constantly walking into this office. That's what we want.

"How can we make the Fort Hays State experience your experience," she added. "At the end of the day, you're coming to college to better yourself. If you want to make college a unique experience, how can student government make it a unique experience?"

Brandt experienced the opportunity to be a volunteer for Hillary Clinton's presidential campaign in January, before the Iowa caucus.

"It made me realize campaign management is definitely not the life for me," she said. "I could not canvass my entire life. It was too much for me. One weekend -- I was like, done."

Brandt is unsure of what lies ahead for her after graduation. She might go to law school; environmental law appeals to her. She might stay at Fort Hays State and get her master's in public administration. There also is the possibility of focusing on a career in higher education.

"I have a year to figure it out," Brandt said.

Little did Brandt know just a few short years ago she would become a Tiger through and through. What Fort Hays State had to offer soon became apparent after her arrival on campus. Her first semester, Brandt took two classes under Dr. Joseph Romance, associate professor of political science. She was hooked on the department -- and FHSU.

"I think Dr. Romance is the reason I stayed at Fort Hays State," Brandt said. "I fell in love with the way he taught classes. I didn't realize a college class could be so fun. I didn't realize it could be so discussion-based.

"I got to sit in a political philosophy class with people with so many different ideologies," she added. "Sometimes you get frustrated, but it was this open and friendly environment where we could communicate."

Romance praised Brandt as a student and as a student leader.

"I think Emily Brandt is an excellent student, one of the very best I have taught in my career," Romance said. "I am extremely pleased she is SGA president, and given her strong work ethic and sense of fairness, I suspect she will be viewed as a very good president."

Brandt said it was her goal to take a class under Romance every semester, but she wasn't able to this fall. Still, the impact he -- and Fort Hays State -- have made on her remains.

Now, when Brandt goes back home, she sings the praises of FHSU to high school students there. She tells them FHSU is like a family, that in on-campus visits prospective students see professors in their major, and are given tours of the buildings on campus.

"I think in the end, it's those little things that matter," Brandt said. "Those little things are certainly what's kept me at Fort Hays State."

And now, after taking office, Brandt is aware she represents Fort Hays State.

"I realized everything I said had such an impact," she said. "I was no longer speaking as Emily Brandt, I was speaking as student body president. I was speaking as every student at Fort Hays State."

Brandt went from almost never being a Tiger to representing every Tiger.

"Fort Hays State was definitely the right choice," Brandt said.