Moving in is a team effort at Fort Hays State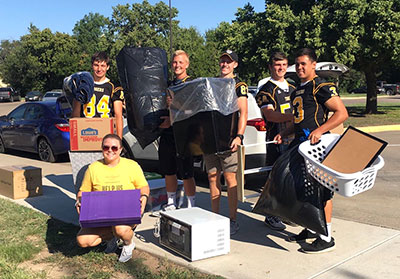 08/18/16
By Diane Gasper-O'Brien
University Relations and Marketing
HAYS, Kan. -- Volunteers turned out in droves Thursday morning for move-in day at Fort Hays State University.

Classes for the 2016-17 school year begin Monday, and the campus was abuzz with students moving early Thursday morning.

University personnel donning gold shirts were easily visible, and newcomers to campus couldn't help but feel welcome.

Even a group of Tiger football players showed up to help carry students' belongings into the residence halls, including Hays freshman redshirt Braydon Delzeit.

Delzeit grinned as he watched his teammates pick up boxes. He could be excused for not doing any lifting. A defensive tackle, Delzeit tore ligaments on the top of his right foot during preseason camp so he is sporting a cast on his lower leg and is making his way around campus on a scooter.

FHSU admissions counselor Jana Wilkinson also was all smiles as she manned a volunteer tent on a corner near McMindes Hall.

Wilkinson is a 2015 December graduate from Fort Hays State, with a degree in organizational leadership.

She planned to go to graduate school but jumped at the chance when she learned of a job opening in the admissions office, where she began work in March.

"I love Fort Hays State so much and didn't want to leave," Wilksinson said.

Tom and Cris Holcomb hope their son has similar feelings for his new school.

The Holcombs accompanied Clay, a freshman agriculture major, to Hays from their home in Kiowa to help him get settled into the college life.

Parents and student alike agreed they liked the price tag. Fort Hays State has the lowest tuition of any state university in Kansas.

"And," Clay Holcomb added, "I know (FHSU) has a really good ag program."