Student hits jackpot at Fort Hays State and in downtown Hays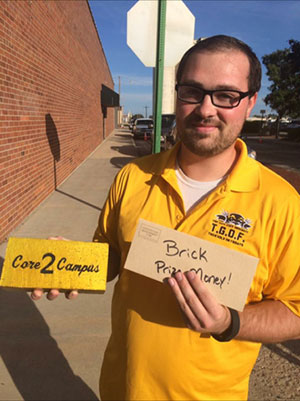 08/29/16
By Diane Gasper-O'Brien
University Relations and Marketing
HAYS, Kan. -- Michael Turner was excited about his return to school at Fort Hays State University after sitting out a while to work and help put his girlfriend through school.

His first week back was made even better when he won $500 at last week's fourth annual Core2Campus event in downtown Hays.

Turner, an FHSU student from Wichita, joined forces with his girlfriend, Lacie Jacka, and their friend, Kaili Davis, to find a gold brick worth $500 hidden downtown.

Jacka said that when she saw on the Fort Hays State Facebook some information about the event that brings students from the three postsecondary schools in Hays to the downtown area, she thought it was something in which they should participate.

One of the event's activities was to find a gold brick with "Core2Campus" inscribed on it. It was announced that there would be five clues given out on two different Facebook pages -- The Bricks in Downtown Hays and Hays Convention & Visitors Bureau.

The first clue came across Facebook at 6 p.m. as "this lawman has a heart of stone," and when they saw it, Turner, Jacka and Davis headed north on Main Street to City Hall.

"We always sit near there when we have parades in town," Jacka said of the complex that houses City Hall and the Hays Fire Department in the 1500 block of Main Street. "So I thought we might as well try there."

In front of the building is a limestone sculpture by local artist Pete Felten, which is entitled "The Lawman."

There, nestled in a bush in front of the lawman statue, was the golden brick with "Core2Campus" inscribed on it.

Turner grabbed it and promptly took it to Sara Bloom, executive director of the Downtown Hays Development Corp.

"I'm ecstatic; I really am," Turner said later that evening when it started to sink in.

He and his two friends sat on a bench in Union Pacific Park, sorting tickets they had retrieved from downtown businesses participating in Core2Campus. A total of 27 downtown businesses stayed open late for students to stop by and pick up a ticket for $3,000 worth of prizes to be given away later in the evening.

"We're dividing the tickets evenly among us," Jacka explained.

It didn't really matter to Turner if they gave him any tickets. He already felt like the big winner, in more ways than one.

"I am so glad to be back at Fort Hays; it's such a great school," he said. "I'm enjoying my classes a lot, especially the media studies ones. And (the $500) will come in handy for school."

He added that he would probably come downtown more often to shop now, after checking out different businesses that evening.

"Definitely, we'll be back down here," he said. "We went to several shops we'd never been in before."

Jacka graduated from FHSU in July with a degree in secondary education. She has not found a teaching job yet but is content to work other jobs for the time being while Turner finishes school.

"He helped me get through school, and now it's my turn to help him do the same," Jacka said.

Both decisions, to return to school and to go downtown for Core2Campus, proved to be good ones.

Coincidentally, one of Jacka's tickets was a winner -- for a gift card to Taco Shop, a popular locally owned restaurant just a few blocks from campus.

"Oh, yeah, we love Taco Shop," Turner said. "It was a good night."