Tiger Pals to host inaugural Tiger Pals kickoff celebration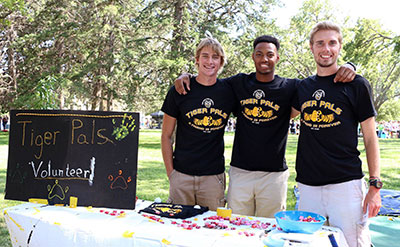 08/12/16 lds
HAYS, Kan. -- A Fort Hays State University student organization, Tiger Pals, and The Arc of Central Plains will host a kickoff celebration beginning at 7 a.m. Saturday, Aug. 27, in front of Sheridan Hall on the FHSU campus.

Tiger Pals was founded by three FHSU track and field student athletes: Keshawn Sewell, Jake Morrow and Justin Montney.

Tiger Pals is a volunteer organization that assists individuals with special needs and disabilities by enhancing their physical, social and mental well-being through engaging activities. Tiger Pals promotes disability awareness, unique mentorship opportunities and community involvement.

"Jake, Justin and I are extremely excited to see the implementation of this program and how it grows during our time as FHSU students," said Sewell. "We hope to build a foundation that will allow this program to last well beyond our time here at FHSU and are excited about the opportunity to impact the lives of individuals in our community who otherwise may not get to experience many of the things we take for granted."

"We hope to bridge this gap and provide FHSU students the opportunity to build relationships with those individuals who would greatly appreciate the time spent together," he said.

The celebration will include a 5k run, fun run or walk, pancake feed, carnival games and competitive games.

The 5k run check-in will begin at 7 a.m. in front of Sheridan Hall. Competitors will receive their packets and bib numbers. T-shirts, at $5 each, will be available during check-in.

The 5K Run is $10 for adults and free for FHSU students. A half-mile fun run or walk for children ages 12 and under is free, and registration is not required.

Awards will be given for the top male and female finishers.

Each participant in the fun run or walk will receive a ribbon.

The 5K run will begin at 8 a.m. in front of Sheridan Hall. The fun run or walk will start shortly after the 5K run on the Big Creek Trail directly under the bridge leading to Gross Memorial Coliseum.

Maps of both routes are available on the FHSU Tiger Pals Facebook page under the Files tab.

A pancake feed will begin at 8:30 a.m. in the FHSU Quad. Carnival games and competitions will also be available.

Competition games are for FHSU students and Hays area businesses who choose to submit teams of six individuals. Competition games include tug of war, egg volleyball, bubble ball soccer and an obstacle course. Prizes will be awarded.

Funds raised will help create opportunities for mentors, mentees and the community at large. Donations are accepted at https://runsignup.com/Race/KS/Hays/TigerPals5K for those who are unable to attend.

FHSU students who want to volunteer their time working with adults and children with special needs can sign up for Tiger Pals at the Kickoff Celebration. They will be notified to fill out a matching application that will pair them with an individual whom they will have to meet with regularly, similar to Big Brothers Big Sisters. A $10 membership fee covers background checks.

For more information, contact Sewell at 620-480-0782 or kssewell@mail.fhsu.edu.