2016-2017 FHSU theatre season to showcase classic works, new talent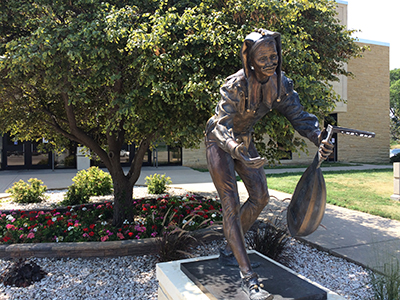 09/02/16 sds
HAYS, Kan. - For more than 50 years, the Fort Hays State University Department of Music and Theatre has been entertaining audiences with lively and engaging productions, and the 2016-2017 theatre season will be no exception.

Director Tomme Williams spends hours reading over scripts to find the perfect pieces to accommodate both actors and audiences.

"I read through so many works; it can be hard to find pieces I get excited about," said Williams. "This season, I've gone with pieces that are more outside-the-box than what we've done in the past."

The year will start with the musical "Show Boat" at 7:30 p.m. on Thursday, Friday and Saturday, Oct. 6, Oct. 7 and Oct. 8. A matinee performance will be at 2:30 on Sunday, Oct. 9. All performances are in Felten-Start Theatre in Malloy Hall.

"Show Boat" has been captivating audiences since its Broadway premier in 1927. Coming off of last year's production of "Footloose," Williams chose the musical because of the way it tackles serious subject matter.

"It handles delicate issues really well," said Williams. "Not to mention, the plot and the music flow so smoothly together."

Dr. Terry Crull, associate professor of music and theatre, will work with the cast of 25 students to perfect the intricate choral parts of the piece. Both Williams and Crull are amazed at the talent being showcased.

"The cast is extremely gifted, all the way down to the chorus. They make my job easier," said Williams.

Following the musical will be "Dracula" at 7:30 p.m. on Thursday, Friday and Saturday, Nov. 10, Nov. 11 and Nov 12. A matinee performance will be at 2:30 on Sunday, Nov. 13, in Felten-Start.

Students have been begging Williams to do the play for years.

"They always ask about it, but for years I couldn't find a production that I liked. So when I came across Steven Dietz's rendition, I knew we had to do it."

A more daring play than has been done in recent years, "Dracula" stays true to the original Bram Stroker novel and provides an excellent outlet for students, especially theatre students, to show off their talent.

It will definitely be our most groundbreaking production this year," said Williams. "We haven't done anything like it."

The season continues with a comedy, "The Ladies Man," at 7:30 p.m. on Thursday, Friday and Saturday, March 2, March 3 and March 4, in Felten-Start. A matinee performance will be at 2:30 on Sunday, March 5.

Adapted from "The Ladies Dressmaker," a French work by George Feydeau, the play is a classic demonstration of door slamming, mistaken identitie, and crazy characters. "The Ladies Man" is filled with double entrendres and word play that's fun for audiences and actors alike. Williams describes it as "a perfect comedy to start the second half of the season."

The season will end with the FHSU Opera at 7:30 p.m. Friday, April 7, and a matinee performance at 2:30 Sunday, April 9. The opera has yet to be announced, but past performances have ranged from Mozart to Bernstein. Dr. Joseph Perniciaro, assistant professor of music and theatre, will direct the production, and the FHSU orchestra will accompany.

"We are proud to remain one of the local community's vital and cultural assets and most exciting entertainment values," said Williams. "I hope everyone comes out to see our shows and enjoys them as much as I do."

The tickets are affordable at $15 for the general public and $10 for seniors and students. Season tickets cost $50 for the general public, $30 for FHSU students and $25 for senior citizens, saving ticket holders an average of $10 per show and allowing them to reserve their seats. Season tickets went on sale Sept. 1.

Patrons can also purchase all-event passes for $125, which gives admission to more than 30 Music and Theatre Department events.

For more information, call 785-628-4533 or email fhsu.musicandtheatre.boxoffice@gmail.com.