Alumni Association announces 2016 Alumni Awards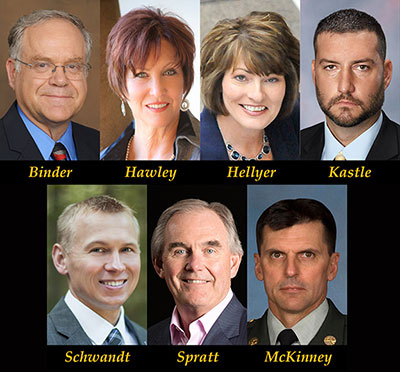 09/23/16 kap
HAYS, Kan. -- Seven alumni and friends of Fort Hays State University will be honored at the Alumni Awards and Recognition Banquet on Friday, Sept. 30, during Homecoming celebrations.

Three honorees will receive the Alumni Achievement Award, the association's highest honor, established in 1959 to recognize graduates who have made outstanding and unselfish contributions in service to their community, state or nation as citizens, in chosen career fields or through philanthropic work.

This year's recipients are Thomas P. "Tom" Binder, Marion, Iowa, who earned two degrees from FHSU in 1979; Jana M. Hawley, Tucson, Ariz., a 1975 graduate; and Brenda K. Lang Hellyer, Pasadena, Texas, a 1985 graduate.

Two alumni will receive the Young Alumni Award, which is granted to graduates of 10-through 15-year reunion classes to recognize those early in their career for significant business or professional accomplishments or for service to the university and the Alumni Association. This year's recipients are Seth D. Kastle, WaKeeney, a 2005 graduate, and Jamie R. Schwandt, Cheney, who earned degrees from FHSU in 2006 and 2008.

The Nita M. Landrum Award for alumni or friends who have provided sustained volunteer service for the betterment of the Alumni Association or FHSU, especially in their home communities or at any local level, will go to Dennis M. Spratt, Lawrence, a 1971 graduate.

The Distinguished Service Award this year goes posthumously to Shannon Alan "Mac" McKinney, Lincoln, a 1983 graduate. This award recognizes a graduate or friend of the university who has demonstrated a continuing concern for humanity on a universal, national, state or community level, who supports spiritual, cultural and educational objectives, and who endorses and exemplifies the highest standards of character and personal attributes.

ALUMNI ACHIEVEMENT AWARDS
Thomas P. "Tom" Binder, Marion, Iowa, graduated from FHSU in 1979 with a B.S. in chemistry and a B.S. in biology. He retired this year as senior vice president of research at Archer Daniels Midland. He earned a Ph.D. in biochemistry from Iowa State University, Ames, in 1985. He was a 1989 recipient of the FHSU Alumni Association's Young Alumni Award.

After post-doctoral research in medicinal chemistry at the University of Iowa, Iowa City, he began work for Archer Daniels as a research biologist in 1986. During his career at ADM, Binder carried out research in a variety of areas. He is regarded as a leader in renewable chemicals and biofuels research. Binder is author or co-author of 41 patents and applications and 10 peer-reviewed publications. He served six years on the Technical Advisory Board of the U.S. Departments of Energy and the U.S. Department of Agriculture.

Binder has also been an active supporter of the FHSU Foundation. His charitable and volunteer interests include Big Brothers Big Sisters, Boy Scouts, Girl Scouts and United Way, among others. He has had a particular focus on schools, participating in programs in cities where he has lived, initiating a neighborhood school garden in Decatur, Ill., and helping to establish a science, technology, engineering and mathematics program in that same city.

Binder was also a volunteer mentor for at risk students in Macon County, Ill., and is currently serving as a mentor in the new FHSU Tiger Mentors program.

He and his wife, Mary Beth, have four children, Joseph, Anne, Katherine and Peter.

Jana M. (Adams) Hawley, Tucson, Ariz., graduated from FHSU in 1975 with a B.S. in home economics. She is the director of and a professor for the John and Doris Norton School of Family and Consumer Sciences at the University of Arizona. She earned an M.S. in clothing and textiles management from Oklahoma State University, Stillwater, in 1990 and her Ph.D. in textile and apparel management from the University of Missouri, Columbia, in 1993.

In addition to her current post, she has taught and served in administrative posts at Indiana University, Bloomington; the University of North Texas, Denton; the University of Missouri, Columbia; and Kansas State University, Manhattan. Her professional résumé includes scores of publications in peer-reviewed and other professional journals with expertise in sustainability, textile recycling, service learning and global initiatives.

Hawley is a Fulbright Scholar to India, a HERS Fellow, Southeastern Conference Administrators Leadership Development Fellow, an International Textile Apparel Association Fellow, a University of Missouri President's Administrative Leadership Fellow, a Kemper Excellence in Teaching recipient, and a Global Scholar to Thailand, India and Turkey.

She has served as president of the International Textile and Apparel Association, is a council member for the Board on Human Sciences, and a board member of the Council for Textile Recycling. Hawley was an advisor for the International Textile Recycling Conference in Japan and worked for the eco-design program in Korea.

Hawley is a Diamond member of the FHSU Alumni Association and is a Distinguished Alumni of Oklahoma State.

She has two sons, Adam, a 2002 FHSU graduate, and Grant.

Brenda K. Lang Hellyer, Pasadena, Texas, graduated from FHSU in 1985 with a B.S. in accounting. She is chancellor and CEO of San Jacinto College, which serves more than 48,000 students in the greater Houston area. She earned an MBA from the University of Texas, Austin, in 2005 and her doctorate in education, also from the University of Texas, in 2009. She is also a Certified Public Accountant licensed in Texas.

A passion for service and philanthropy has led to countless hours volunteering for chambers of commerce, schools, homeless shelters and churches in the communities in which she has resided. This service in the community eventually led to volunteer work with San Jacinto College Foundation, which later evolved, in 1996, to full time employment in fundraising and resource development at San Jacinto College. In 2003, Hellyer became interim chief financial officer, which evolved into her serving as executive vice chancellor. She was appointed chancellor in 2009.

Her educational involvement spans national, state and local arenas in which Hellyer has been recognized for her efforts by the National Association of Developmental Education, the Pasadena Chamber of Commerce, Phi Theta Kappa, Houston's Influential Women and the Texas Region Hall of Honor for Chief Executive Officers, among others. She was elected by the Southern Association of Colleges and Schools Commission on Colleges to serve as a member of the board of trustees representing 800 institutions.

Hellyer is a Gold member of the FHSU Alumni Association.

She and her husband, Rusty, have three children, Russell, Jennifer and Reilly.

YOUNG ALUMNI AWARDS
Seth D. Kastle, WaKeeney, graduated from FHSU in 2005 with a B.S. in organizational leadership. He is the owner and founder of Kastle Books LLC, and is an instructor of leadership studies at FHSU. He earned an M.S. in leadership from Southwestern College, Wichita, in 2009 and is currently completing a doctorate in education from Baker University.

Kastle, a retired first sergeant in the U.S. Army Reserve, served two combat tours in the Middle East after 9/11. His many military honors include a Bronze Star for his service in Iraq. His philanthropic activities include initiating a scholarship in his hometown and a scholarship for the son of a fallen comrade, CWO Bryan Nichols.

He wrote one book, "Why Is Dad So Mad," and co-authored another, "Why Is Mom So Mad," both addressing how families can cope with post-traumatic stress disorder. "Why Is Dad So Mad" was a No. 1 Amazon best-selling children's book and was featured on NBC Nightly News, in the Huffington Post and in military publications such as The Military Times and Task and Purpose. The companion book, "Why Is Mom So Mad," addresses the struggles of families with mothers suffering from PTSD.

Kastle was selected as a 2016 Tillman Scholar by the Pat Tillman Foundation, receiving the award for his passion for civic engagement and incorporation of service learning in the classroom.

Kastle and wife, Julia, a 2006 FHSU graduate who is also a veteran, have two daughters, Raegan and Kennedy.

Jamie R. Schwandt, Cheney, graduated from FHSU in 2006 with a B.S. in health and human performance and in 2008 with an M.S. in health and human performance. He is a captain in the U.S. Army Reserve, a Lean Six Sigma Black Belt, an author, a TV show host and a motivational speaker. He earned his doctorate in education in 2013 from Kansas State University.

His military service includes service in Operations Enduring Freedom and Iraqi Freedom. Currently, he serves as a company commander in Wichita. He previously served as a strategist on the Army staff at the Pentagon. In 2014, he was selected to participate in a European strategic partnership and trained in Germany with the German armed forces. Schwandt has commanded 400 soldiers, earned two meritorious service medals, four Army commendation medals, the military outstanding volunteer service medal and the Army staff identification badge.

He is the host of "Dreaming Big with Dr. Schwandt," a program sponsored by the Kansas Department of Children and Families. Schwandt, who grew up as a foster child, has published two books. "Succeeding as a Foster Child," published in 2014, was written as a "handbook" for how to succeed as a foster child. "Finding Your Hero," published in 2015, is a children's book written for foster children. He has also given numerous presentations and programs across the country.

Schwandt and his wife, Tomi, a 2007 FHSU graduate, hold silver alumni membership status in the FHSU Alumni Association. They have a daughter, Ella Katherine.

NITA M. LANDRUM AWARD
Dennis M. Spratt, Lawrence, graduated from FHSU in 1971 with a B.S. in physical education. He is vice president of and a wealth consultant for Wealth Management Group of KC Inc.

Spratt's volunteer activities for FHSU and his communities have spanned more than three decades. He served on the Alumni Association Board of Directors from 2006 to 2014. That time included service on the executive committee and as chair of both the finance committee and the chapter development committee

He has attended numerous alumni events in Topeka, Lawrence, Kansas City and Hays, including many Student Recognition Programs and has sponsored the SRPs as well. Spratt and his wife, Sharon, have also hosted a number of alumni events at their residence. Currently, he is serving as a mentor in the FHSU Tiger Mentors program.

He has been active also in recruiting students to FHSU from among friends and family, is a Difference Maker for the university's Athletic Department, and holds Platinum membership status in the FHSU Alumni Association.

Spratt has always been an enthusiastic member of his communities, volunteering extensively. Living in Hays from 1980 to 1988, he served as president of Hays Optimists and of the Chamber of Commerce Ambassador Club. He has volunteered as a certified track official at more than 175 track meets since moving to Lawrence in 1988, served as president of the Lawrence Sports Corporation, and organized and managed the track portion of the Sunflower Games for several years. He is the past-president of the Lawrence chapter of Junior Advancement of Kansas.

The Spratts have three daughters, Stephanie, Kristin and Tiffany.

DISTINGUISHED SERVICE AWARD
Shannon Alan "Mac" McKinney, who was living in Lincoln at the time of his passing, graduated from FHSU in 1983 with a B.S. in agriculture. He was a retired sergeant major in the U.S. Army, the highest enlisted rank, and was the owner of McKinney Farms.

McKinney enlisted in the Army in 1988 and served 26 years before retiring in January 2015. His service included multiple combat tours totaling five years: seven tours in Afghanistan and Iraq, one in Bosnia, and one in Panama.

The last 16 years of his service, after service as a Ranger and Green Beret, were in the Army's elite Delta Force, according to a former comrade. Over the course of his service, McKinney participated in hundreds of high-risk missions and operations.

His many awards include the Legion of Merit, nine Bronze Stars (two with the "V" for valor in combat), three Purple Hearts, two Combat Infantryman Badges, the second with a star, the Master Parachutist Badge with a bronze star for making a combat jump, the Master Freefall Parachutist Badge, the Special Forces Tab and the Ranger Tab.

People who served with him relate that he was one of the first Delta people inside Afghanistan after 9/11. In his first year in the Army, while with the Rangers in 1989, he was one of the first two people through the doors of the Panamanian Defense Forces headquarters.

He is survived by his wife, Donna.

Established in 1916, the Fort Hays State University Alumni Association serves FHSU graduates by identifying needs and providing solutions. More than 63,000 graduates live throughout the United States and in approximately 75 countries. For more information, contact the Alumni Office at 785-628-4430, toll free at 1-888-351-3591 or by email at alumni@fhsu.edu.