American hero speaks to FHSU audience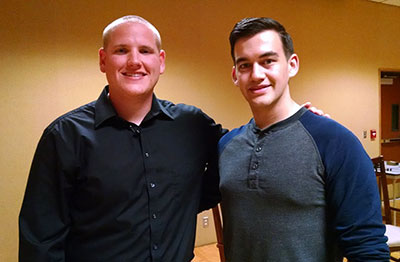 09/15/16
By Randy Gonzales
University Relations and Marketing
HAYS, Kan. -- Looking back, Spencer Stone said it feels like he was meant to be a passenger on a train to Paris on Aug. 21, 2015.

Stone, an Airman First Class at the time, and two of his friends, Anthony Sadler and Army Specialist Alec Skarlatos, were vacationing in Europe. They were headed from Amsterdam to Paris when they heard a commotion on the train. A terrorist with an AK-47 automatic rifle emerged from the bathroom.

Mark Moogolian, an American-born Frenchman, wrested the rifle from the terrorist, later identified as Ayoub El Khazzani. After the scuffle, the terrorist shot Moogolian in the back with a pistol. The bullet broke two ribs and nicked his carotid artery. Moogolian dropped the rifle, and the terrorist picked it up.

Then, Stone and his friends took action.

"I figured it was now or never," said Stone, who was the guest speaker Tuesday night at Fort Hays State University's Memorial Union's Black and Gold Room. "I'm not going to die sitting down."

Stone's talk was part of the Quest Leadership curriculum, and was sponsored by FHSU's Department of Leadership Studies and the Center for Student Involvement. Stone and his friends charged the terrorist, who attempted to shoot Stone, but his AK-47 misfired.

Stone, who had just recently taken up jujitsu, attempted to subdue the attacker with a choke hold. El Khazzani first attempted to shoot Stone with his pistol, then pulled out a box cutter and stabbed Stone in his back and his left hand, severing the tendon and nerve by his thumb.

Stone, with the aid of British businessman Chris Norman, eventually subdued the attacker. Stone's choke hold rendered the terrorist unconscious.

"Even though it spanned all of two minutes, it seemed like an eternity," Stone said.

After the attacker was tied up, Stone turned his attention to Moogolian. A medical technician in the Air Force, Stone knew he had to stop the bleeding. He found the carotid artery and applied pressure. He kept that pressure on for the next 30 minutes until the train reached Paris and medical help arrived.

Ironically, Stone wouldn't have known what to do if he hadn't been unsuccessful in the Air Force. He was disqualified from being a member of the Pararescuemen due to a difficulty in depth perception and was unsuccessful in a survival, evasion, resistance and escape program. That led to Stone becoming a medical technician instead.

"Throughout my military career I was kind of guided into this direction," Stone said. "I almost feel like I was destined to be on that train. I had the skill to save Mark's life."

Stone said leadership and followership are both important, and failure is an important part of leadership.

"I've failed a ton in my life," he said. "Failure is one of the most important experiences."

Stone was promoted to staff sergeant shortly after the attack on the train, and he and his two friends received a phone call from President Obama, and later met him at the White House. Stone and his two friends were also presented with medals, France's Legion d'Honneur.

Hays resident Sue Bickle heard Stone was coming to town, so she ordered a book, "The 15:17 to Paris: The True Story of a Terrorist, a Train, and Three American Heroes," so he could sign it. Bickle's younger sister, Paula Carlson, knew Stone when he was growing up in Sacramento, Calif., and Bickle wanted to meet him. Bickle was impressed with Stone's talk.

"I think he's got a really good message for people, as far as the way we need to believe in ourselves and do what we need to do," she said.

Looking ahead, Stone, 24, plans to leave the Air Force in the next few months and attend college at San Diego State University and major in international security and conflict resolution.

"I kind of live my life with a sense that I still have a lot to do," he said. "I'm alive for a reason. I don't know what that reason is. I guess I'm trying to find it. I'm on a journey."

Cutline: Spencer Stone, left, with FHSU junior Micah Fabarez, a management major from Topeka.