Celebration of a new building, new beginnings at Fort Hays State University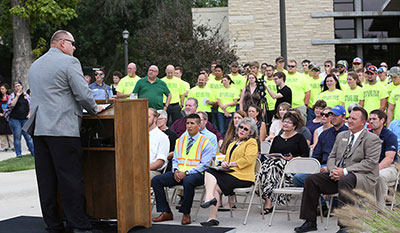 09/07/16
By Diane Gasper-O'Brien
University Relations and Marketing
HAYS, Kan. -- A university program is only as good as its curriculum -- and the faculty who teach it.

Fort Hays State University is combining the best of both worlds with its newest academic building.

Adding a new state-of-the-art facility to an already strong foundation of curriculum and faculty promises to enhance several programs at FHSU.

The Center for Applied Technology and Sculpture will be the new home to all of the industrial technology programs, technology and engineering education and a sculpture/art studio.

Kim Stewart, in his 20th year of teaching at Fort Hays State, gushes with enthusiasm when talking about the new CATS.

"We're building," was a phrase that Stewart used over and over at Wednesday's construction preview of the 58,000 square-foot structure set for completion in fall 2017 on the corner of north College Drive and Eighth Street.

A large crowd of about 100 people gathered in the circle drive of the Memorial Union and watched first-hand construction in progress across the street.

"Today, no one can deny the need for a technologically skilled workforce," said Dr. Mirta M. Martin, president of Fort Hays State. "From manufacturing, to construction, to energy, education and agriculture -- the increasing applications of technology in the workplace are essential to economic growth and sustainability.

"The new Applied Technology and Sculpture Building will allow us to educate our students in a state-of-the-art environment that incorporates best practices and that allows our students hands-on experience using state-of-the-art equipment."

Stewart, chair of the Department of Applied Technology -- which is now part of the new Science, Technology and Mathematics College -- agreed.

"The vision for the future is about opportunities for students," he stressed.

Stewart talked about a lot of those opportunities in his speech and ended each example with "Translation, 'We're Building.' "

"STeM is a diverse college," said Greg Farley, dean of STeM. "But we are fundamentally a skills-based group, and Applied Tech exemplifies this. This building represents the scaffold within which new learning spaces will be developed, allowing faculty and students to work together on technology, innovation and applications. "

"This is a celebration of new beginnings," said Stewart, whose association with the department spans parts of five decades, all in Davis Hall, which was built 65 years ago.

After graduating from Smith Center High School in 1977 and attending a community college for one year, Stewart transferred to FHSU and graduated in 1981 with a degree in industrial education. After teaching in Ulysses for 15 years, he returned to his alma mater in 1996.

"Davis Hall served us well for 65 years," Stewart said. "This is going be our home for the next 65 years or more."

Misa Banderas is an FHSU student who will not get to enjoy the benefits of the new building but is still excited for future FHSU students.

"When I found the building was coming together, I was kind of sad because this is the homerun stretch for me," said Banderas, a senior construction management major from Holcomb who will graduate in December. "But I came to Fort Hays State based on relationships and professors and found a great program, and it taught me to work with my hands and to work with my mind. So I'm proud to tell you that there's no place I feel more proud of belonging to than that Fort Hays State unit, and future students will find their home here.

"I can only imagine what it's going to be like now, with the best professors and amazing facilities. When you have a state-of-the-art facility, it just enhances the teaching," Banderas continued. "We already have professors who go above and beyond. Adding this facility to that is going to make that department so much better."

"We don't think that it's a situation where we are going to be old school or have to go all new technology," Stewart said. "It's not either-or; it's going to be more."

The CATS will not only provide more space for students, but it will be quality space. It will feature laboratories for computer aided design, instruction and graphics, woodworking, metalworking, plastics, power and energy, robotics and construction management. There will be studios for sculpture, blacksmithing and metal foundry.

The facility will feature an iron and millwork covered entryway and other classic industrial characteristics. At one end of a two-story, glassed-in atrium area near the front entrance will be a small social café nook. Completing the center of the atrium will be two seminar classrooms and an area that will be used for symposiums, technology days and student recruitment.

"Quality of space matters, especially creative and functional workspace," Farley said. "The new building defines what is great about Fort Hays State University: outstanding facilities, outstanding faculty.

"This efficient, safe and creative space will allow us to do what we do best: enrich student experiences, develop outstanding technology and sculpture majors, who after graduation join the workforce, and make FHSU proud."

"We will have integrated and collaborative work spaces to spur entrepreneurial thinking and innovation. We will have the capability and flexibility to meet the current and future needs of our industry partners," Martin said. "This facility will allow us to continue to attract bright minds and produce graduates right here at Fort Hays State University who are industry-ready and in great demand."

Sculpture students, who currently work out of an area on the northwest corner of Rarick Hall, will also benefit from additional work space in the new CATS.

"The addition of metal sculpture, which is housed in a different college (Arts, Humanities and Social Sciences), represents our current administration's approach to looking past traditional boundaries and creating new opportunities, where art and design majors work alongside education and technology majors," Farley said.

Ben Cornwell, a junior sculpture major from Bison, is looking forward to reaping the benefits of the new facilities.

"It's a nice little shop, pretty impressive some of the things we make," he said of FHSU's current metal works area. "But this new building, with all the space and equipment -- it's going to be amazing. The new metal pouring pit alone is going to be four times as big as it is now.

"This will be one of the best sculpture/blacksmith/metal foundry areas west of the Mississippi," he added.

Stewart talked about how the CATS will also help his department continue to partner with other departments on campus and other institutions around the state, as well as industries and companies both locally and regionally.

"Partnerships with businesses so we can have internships available is a significant part of what we do for our students," Stewart said. "Partnering is the way of the world right now. That's what is exciting being in the new STeM College. We get to partner with other professors we normally wouldn't get to do things with."

Additional information about the building, including naming opportunities, is available by visiting http://foundation.fhsu.edu/campus/appliedtech.php.