Dane G. Hansen Scholarship Hall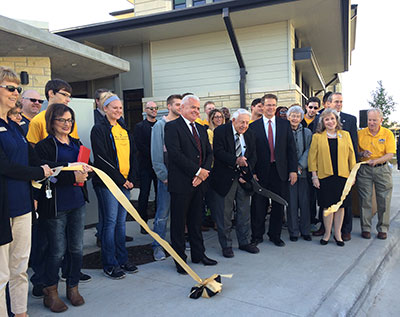 FHSU's newest residential building combines innovation, scholarship to help develop student entrepreneurs

09/30/16 kb
HAYS, Kan. -- Homecoming 2015, ground was broken. Homecoming 2016, Fort Hays State University's $3.95 million Dane G. Hansen Scholarship Hall was dedicated in a ceremony this morning.

Appropriately for a residence hall dedicated to aspiring entrepreneurs, the ribbon was cut by the Hays Area Chamber of Commerce Ambassadors at the close of the ceremony, just before the 16 Hansen Hall residents present conducted tours of the building.

Jason Williby, president and CEO of the FHSU Foundation, opened the ceremony with thanks to the major donor that made the scholarship residence hall possible, the Dane G. Hansen Foundation, Logan, which provided $3.5 million of the cost.

"I want to thank the trustees of the Hansen Foundation for believing in Fort Hays State University, for sharing our vision, for investing in the future of northwest Kansas," said Williby before introducing FHSU President Mirta M. Martin.

"Thank you all for being here today to celebrate the beginning of the next stage of our journey," said President Martin. "First and foremost, I would like to thank the Dane G. Hansen Foundation and its trustees. Without their belief this dream would not be a reality. Today marks the beginning of the next journey of Fort Hays State University."

She described the journey as one of pride, emotion and dreams, "but these dreams will become a reality because of individuals like the trustees of the Dane G. Hansen Foundation, who invest in the future of our nation."

"And the future of our nation are these guys right here," she said, indicating the Hansen Hall residents in attendance. These students, she continued, will be the leaders and the entrepreneurs of the future who will "become part of the economic engine of Kansas and of the world."

Doug Albin, a trustee of the Hansen Foundation, said he was asked to speak on two topics, why his foundation would invest in a project like this and "what outcomes we hope to see from it."

On the first topic, he said, he believes that Hansen Hall reflects the person who created the foundation and funded it from his own entrepreneurial efforts.

"There are a lot of things that might make a person an entrepreneur," said Albin, "but one thing that I really like about what I've heard about him as a person -- I never met him -- but one of the things I have heard said about him is he saw needs around him and he did what he needed to do to meet those needs."

Turning to the second topic, he said, "So what we really hope to do in this building is reflective of what Mr. Hansen tried to do, and that was be an entrepreneur himself and help others do the same."

Indicating the hall's residents, he continued, "The unique thing here for these students is that I think your ideas will really help each other as you collaborate. I think that will get you a lot further than if you are just out and around on your own."

The hall, which provides a nationally unique living and learning space for students with a passion for entrepreneurship, is open to qualifying students from all majors, a point made by Dr. Mark Bannister, dean of FHSU's W.R. and Yvonne Robbins College of Business and Entrepreneurship.

"Our aim is to inspire students from across campus so that they can create their own careers," he said. "We want to help them develop entrepreneurial skills by providing them with entrepreneurial experiences and associations. Hansen Hall will make a significant contribution to this process by providing a place where students who share an entrepreneurial mindset can share ideas, hopes and dreams and begin building networks."

The 12,775-square-foot, three-story building provides individual bedrooms for 32 students and a resident assistant.

Students must complete an application that evidences their passion for entrepreneurship. They may have participated in entrepreneurial classes or activities in high school or college or been part of a startup business or worked in a family business.

Students selected to live there will be required to complete coursework for a 12-hour certificate in entrepreneurship. Students who are accepted pay a lower housing cost than available in other campus housing.

The students participate in weekly entrepreneurship activities, including presentations by entrepreneurs, tours of startup and innovative businesses, visits to business accelerators and events such as Kansas Startup and the Faulkner Entrepreneurship Challenge.

The first group of residents include students majoring in finance, management, graphic art, computer networking, entrepreneurship, construction management and fine arts majors. They range from freshmen to graduate students.

Bannister said that institutions around the country have undertaken similar housing initiatives, but the difference is that they charge students a premium for the privilege.

"At Fort Hays State, we and the Hansen Foundation have taken a different path," he said. "Our focus is on developing our students, so we have created a scholarship and learning opportunity for these students. The price for admission is not additional dollars, but a demonstration of commitment to their entrepreneurial aspirations through success in their coursework and in completing the certificate program."

Hansen Hall is the first of its kind among Kansas Board of Regents institutions. It also includes a community room, study areas and collaboration rooms equipped with the latest teaching and learning technologies and spaces designed to stimulate teamwork.

A conceptual feature is the expectation that the overall environment will serve as an incubator for student-based start-up businesses with the intent of benefiting the region, Kansas and America.

"We and our friends and supporters have built one of the fastest-growing entrepreneurship programs in the entire country," said Henry Schwaller, director of the university's Center for Entrepreneurship.

"Our focus in entrepreneurship, as in so much else here at Fort Hays State, is on hands-on learning," he continued. "The Hansen Scholarship Hall extends that focus into their living environment. Students from across many disciplines and departments can associate with each other and foster ideas and creativity toward the common goal of becoming entrepreneurs in their various fields."

One of the hall's residents closed out the program. "Living in a community that supports your passion and determination is one of the biggest motivators one can have," said Gracie Defore, a Wellington junior majoring in tourism and hospitality management. She is taking a minor in leadership studies and earning a certificate in entrepreneurship.

She described the first residents of Hansen Hall as representatives of various majors, groups, organizations and interests from all across campus. But they all share a couple of traits: They are active in the life of campus and community, and they are leaders.

"The students who live in this hall are all very involved individuals. Almost everyone in this hall is a student leader of one kind or another, whether it be in residential life, holding an on-campus or off-campus position, or being involved in sports," she said.

She also addressed the impact of having a place like Hansen Hall.

"The sense of community that is present in this building is one that cannot be matched by a larger living facility on campus," she said. "Having such a tight-knit group of the most elite students on campus fosters the creativity needed to build the next generation of ideas in this world."