Fort Hays State alum from Japan returns for campus visit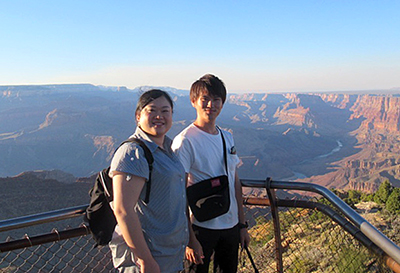 09/23/16
By Randy Gonzales
University Relations and Marketing
HAYS, Kan. - Fort Hays State University offered Ayano Takeuchi what she was looking for more than a decade ago. Takeuchi was back on campus recently, making a stop in Hays while she is figuring out what she is looking for now.

Takeuchi, who graduated from Fort Hays State in 2006 with a bachelor's degree in agriculture animal science, took a job with Japan Livestock Trading Corp., an importer which is the exclusive Japanese agent of ABS Global, Inc. Takeuchi recently left ABS Global, a world-leading provider of bovine genetics, reproduction services and technologies, after nearly 10 years.

"I wanted to have time for myself," Takeuchi said. "I traveled around Japan every week."

Takeuchi, 34, is not sure what is in store next career-wise, but for now she and her younger brother, Eisaku, just finished spending 13 days traveling around the United States to see friends and visit tourist attractions. Hays was first on the list. After visiting the U.S., Takeuchi is looking at traveling to see friends in New Zealand.

"I want to go around the world," she said. "I have some friends who are global."

While going to school in Japan, Takeuchi was looking for a college in the United States. FHSU became her destination of choice after she saw a picture of the school in a book.

"I went to school in Japan; that school had many sister schools in the U.S. Fort Hays State was one of those schools," she said. "I knew this school had animal science, and I chose this school."

Takeuchi said attending college at Fort Hays State helped in her career after graduation. She improved her English while studying at FHSU. At ABS, she spoke English and translated into Japanese for farmers she worked with in her homeland.

"I got a chance to speak English in Japan related to cows," Takeuchi said. "I studied animal science, so I know many terminologies related to dairy and livestock. I can translate English to Japanese, and back and forth."

Takeuchi said going to school at Fort Hays State was different from Japan.

"The atmosphere in the classroom is very different from Japan," she said. "Classes are small. In Japan, most of the classes are bigger than here."

So was the fashion. That took a little getting used to, Takeuchi said.

"Classmates are very different, the style," she said. "The fashion is very different. Here, the classmates wear cowboy hats. No Japanese wear cowboy hats in the classroom -- or big belt buckles."

Dr. Brittany Howell, associate professor of agriculture, had Takeuchi in several of her classes. Once Howell found out Takeuchi's father had a herd of 750 dairy cows, she had her student give a presentation.

"In Japan, they don't have presentations like seminars, just a little bit," Takeuchi said. "Here, we got a chance to speak many times."

Takeuchi said she was "very nervous" before the presentation in Howell's class.

"I rehearsed many times," she said.

Howell remembered Takeuchi as a student.

"Very enjoyable," Howell said. "She was very interested. She was very polite. She very much wanted to learn."

Takeuchi liked the small-town atmosphere of Hays, and she has recommended FHSU to other Japanese students.

"Hays is very quiet. We can concentrate on studying," Takeuchi said. "It's a good atmosphere and environment to study."

After a few days in Hays to visit friends and former teachers, Takeuchi and her brother traveled to Dallas to see a friend, then were off to New Mexico, first to see White Sands National Monument then visit Santa Fe. From there, the siblings went to see the Grand Canyon. After a quick trip to Las Vegas, they headed back home to Japan.

Takeuchi might have returned home, half a world away, but she will have lasting memories of her time at Fort Hays State and Hays, America. She will remember the friends she made. She will remember going to Taco Shop as one of the first things she did in town. She will remember trying German food at Oktoberfest. She will remember developing a taste for Burger King hamburgers. She will remember it all.