KWEC to host annual Butterfly Festival in September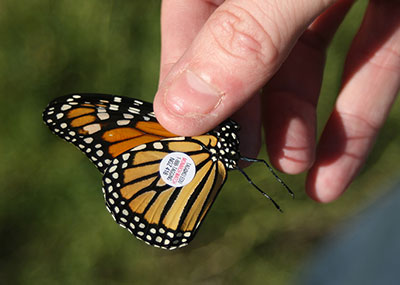 09/01/16 lds
HAYS, Kan. -- Nine out of 500 monarch butterfly tags recovered recently in Mexico were from butterflies tagged at the Kansas Wetlands Education Center in 2015.

Individuals of all ages will have the opportunity to tag and release their own monarch butterflies during KWEC's annual Butterfly Festival from 9 a.m. to noon Saturday, Sept. 17, at the center.

"Of the nine butterflies recovered, one was tagged during the festival last year, while others were from school programs and butterflies captured during evenings in fields," said Pam Martin, festival coordinator.

"This is an extremely high number of tag recoveries," said Curtis Wolf, KWEC manager.

Until recently, Martin had seen only four tags recovered in the previous 23 years.

The center, 592 NE K-156 Highway, is on the southeast side of the Cheyenne Bottoms Wildlife Area, northeast of Great Bend.

After the butterflies are captured, volunteers will assist in placing adhesive tags with identifying numbers on the underside of the wings. The butterflies are then released. Tagging helps biologists to learn about the monarch's migration to its wintering grounds in central Mexico.

Nets and tags will be available. Participants will receive information about the tagging process before heading out to the field with a tagging leader.

"We don't always hit the peak monarch migration, but there are always some monarch butterflies to chase and capture in addition to caterpillars and chrysalises," said Martin.

"Last year was a good migration year and the numbers were up. The drought had eased, and scientists think that helped the monarchs migrate," she said.

Other activities will be provided, such as an insect zoo with an exhibit beehive (weather permitting), giant walking stick insects, hissing and peppered cockroaches, and butterflies, caterpillars and chrysalises.

"From making milkweed seed bombs to tagging monarch butterflies, kids and adults will find plenty to do during this free event," said Wolf.

Kids and adults will be able to play in the mud and make milkweed seed bombs to take home. Milkweed seed bombs are composed of clay, compost, water and native flower seeds. Pre-made milkweed seed bombs will be available to practice slinging into KWEC's prairie area using giant slingshots.

Free milkweed plants, with growing instructions, will be available to those who would like to encourage monarchs to their yards and gardens.

The festival will include monarch butterfly and caterpillar photo boards, temporary tattoos, games, a butterfly mural, and drinks and refreshments.

Information on butterfly-friendly plants and other attractants will be available. Visitors may also walk through the wildflower and butterfly garden to view examples of such plants.

For more information, call the KWEC at 1-877-243-9268 or visit wetlandscenter.fhsu.edu.