College of Health and Behavioral Sciences holds suicide prevention workshop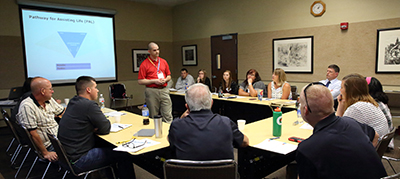 10/03/16 cu
HAYS, Kan. -- A suicide prevention workshop was held by Fort Hays State University's Department of Psychology and associates.

Participants include the FHSU Psychology Department, Kansas National Guard, Kansas Highway Patrol, High Plains Mental Health Center, Ellis County Sheriff's Department, Hays Police Department, Veteran's Administration Officers and the Kansas Commission on Veteran's Affairs.

As part of the Kansas National Guard's efforts to create communities safer from risk of suicide, the Department of Psychology collaborated with the Kansas National Guard to present the two days of Applied Suicide Intervention Skills Training (ASIST).

The workshop consisted of practical, hands-on training designed to fit a cross section of professionals who often come in contact with suicidal individuals.

"Listening to the professors from FHSU and other trained professionals in the field allowed me to gain from their experiences in practical, 'real world' events where the ASIST model was applied and was successful," said 2nd Lt. Austin Abernathy, Kansas National Guard.