Dr. Min to join FHSU administration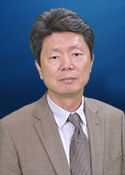 10/10/16 sds
HAYS, Kan. -- Dr. Sangki Min recently accepted the position of assistant vice president for institutional effectiveness and quality improvement at Fort Hays State University. He will begin Nov. 1. He comes to FHSU from the position of dean of institutional service at Kansas City Kansas Community College.

Previously, Dr. Min began at KCKCC as a research analyst, then became director of institutional research before being appointed dean of institutional services. He has received a number of awards, including a Kansas Board of Regents Inaugural Data Quality Award, a John and Suanne Roueche Excellence Award, and a National Institute for Staff and Organizational Development Excellence Award.

Before joining KCKCC, Dr. Min taught economics at the University of Missouri-Kansas City and international economics and business at Keimyung University, Daegu, South Korea. Min graduated with a masters in economics from UMKC in 1987. He earned a doctorate in economics from Iowa State University in 1993.