Ellis County Relay For Life to take place Oct. 22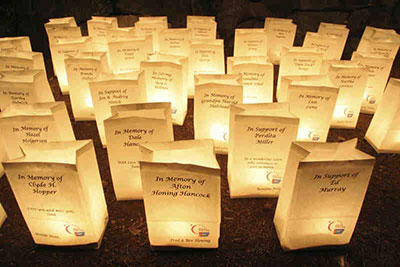 10/14/16 sds
HAYS, Kan. -- The American Cancer Society will host Ellis County's Relay For Life from noon to 6 p.m., Saturday, Oct. 22, at Fort Hays State University's Gross Memorial Coliseum.

Relay For Life celebrates cancer survivors and raises funds for research. It also supports a number of patient service programs such as Hope Lodge, Insurance Assistance, Look Good Feel Better and Patient Navigator.

Events will include viewings of a fire truck from the Hays Fire Department, a raffle and an auction. Raffle tickets are $1 for one or $5 for 6. Participants do not need to be present to win. Taco Shop will provide free tacos starting at noon.

Vendors at the event will include Wild Feather Crafting, Avon, Premier Jewelry, It Works, Lularoe, Nex-Tech, K&L Kreations, Pampered Chef, Usborne Books, Young Living Essential Oils, Scentsy, Ulrich's Crafts, Younique, Thirty-One Gifts, Robert Alvarez Wood Works, Sassy Sam's and the FHSU Department of Nursing.

Participants do not need to pre-register or be on a relay team. Luminaries can be purchased and donations made any time.

The tentative schedule is as follows:
11:30 to 1 p.m.
Fire truck viewings
12 to 1 p.m.
Taco Shop
Survivor registration
Visit vendors/teams
1 p.m.
Opening prayer by Deacon Dave Kisner
Flag presentation by Rural Company #5
National Anthem sung by Carson Klaus
Pledge of Allegiance led by local Marines
1:15 p.m.
Opening remarks by FHSU President Mirta M. Martin
1:30 p.m.
Survivor and caregiver laps
1:45 p.m.
Team lap
3 p.m.
Speech
3:15 p.m.
Games and entertainment
3:30 p.m.
Auction and raffle
4 p.m.
Luminary ceremony
6 p.m.
Closing ceremony

For more information, contact Kim Peach, community manager for Ellis County Relay For Life, at 512-490-8711, extension 3780.